What is an Operation Insurance Cover?
Sometimes, the road to recovery from an illness may begin with a surgery. The thought of undergoing a surgical operation can make anyone nervous. However, you can rest assured when you know that you have access to the best medical care available under your health insurance.
Surgery is a crucial medical procedure required as part of the treatment of various illnesses. Thanks to medical advancements, surgical procedures are getting advanced. There are many surgeries that no longer need large incisions, elaborate procedures, or even extended stays at the hospital. Surgery helps save the lives of people who are fighting a disease or a medical condition.
The operation insurance plan offered by Care Health Insurance is a type of mediclaim policy that offers comprehensive coverage for expenses related to defined surgical procedures. This health cover provides the much-required financial cushion for one's precious savings.
What is Included in an Operation Insurance Plan?
An operation insurance plan offers financial protection against various surgical expenses incurred by the policyholder. It is an indemnity based plan that provides the following benefits to the insured:
Cover for Defined Surgical Procedures
Cover for Pre and Post Hospitalization Medical Expenses
In-Patient Care
Day Care Treatment
Cover for ICU and Ambulance Charges
Organ Donor Cover
Second Opinion
Annual Health Check-up
Lifelong Renewability
No claim bonus
How to Select Operation Health Insurance Online?
Buying operation health insurance online is a simple process that does not involve any paperwork. In a few clicks, you can get the best health cover for your medical expenses. Before proceeding, make sure you have made a clear assessment of your medical needs and estimated your costs.
Now, visit the official website of Care Health Insurance, where you will find the best operation insurance policy. You have the option to pick the sum insured based on your financial requirements. Moreover, you can calculate the premium and pay the amount online.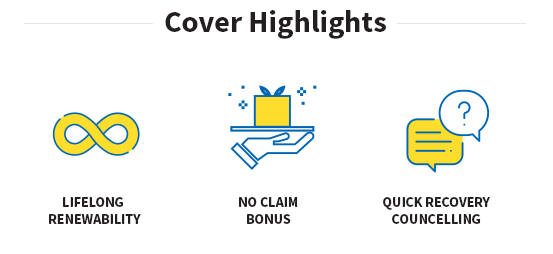 Key Factors to Keep in Mind While Opting for an Operation Insurance Policy
Choosing the right health insurance cover is of utmost importance so that you can stay worry-free about possible out-of-pocket expenditures. Here are some essential factors you must remember when selecting health insurance for surgery:
Make sure you check the list of surgical procedures which are covered under the policy
Find out the network hospitals where you could avail of cashless hospitalisation facility
Decide the coverage amount which would be suitable for your estimated medical expenses
Remember to take into account the waiting period clause, sub-limits, and exclusions
Make sure the policy you have selected has features like lifelong renewability
Check if there is an option of equated installments for premium payment
Exclusions in Operation Insurance?
The operation insurance policy has an initial waiting period of 90 days and 48 months for pre-existing diseases. The insured persons cannot get a claim if they undergo a diagnosis of illness or any surgical procedure during this period.
When buying a health insurance policy, it is essential to check the list of exclusions. It will give you an idea of the various scenarios where you will not be eligible to get a claim.
We list below some of the permanent exclusions of the policy:-
Act of self-inflicted injury attempted suicide or suicide
Any illness related directly to the consumption of Alcohol/Tobacco/Cigarettes etc.
HIV/AIDS or any other sexually transmitted disease
Cosmetic or plastic surgeries or related treatment
Pregnancy, miscarriage, childbirth, maternity including C- section, abortion or complications of any of these
All the hazardous activities
Damage caused by a nuclear, chemical or biological attack or weapons
Illness or injuries caused due to any breach of law by the insured with any criminal intent
Benefits of Operation Insurance
When dealing with an illness or a medical condition, a person goes through a lot of physical and mental stress. Also, one cannot ignore the cost of medical treatment, which is quite high in India. Sometimes, a doctor may recommend surgery as a solution to a medical problem. Critical surgeries can make you spend a lot of money. The medical bills can take you by surprise and impact your savings if you are not prepared to deal with them. There are quality medical facilities where one can get the best medical care. To ensure you get the best care at the best healthcare center without worrying about the costs, you must opt for health insurance for surgery. This policy will protect you from the hefty medical bills you would incur.
Moreover, features such as no claim bonus help you to get increased coverage. This feature proves beneficial as it offers protection for future medical expenses that are likely to be higher.
Why should one buy an Operation Cover?
Surgery may become inevitable for a person suffering from an illness or having a specific medical condition. Surgeries are performed effectively and quickly owing to the technological advancements in healthcare, thus benefiting the patients. A surgical operation demands great care, and therefore it becomes crucial to avail quality treatment at the best hospital. However, the cost of healthcare in India is quite expensive, particularly in private hospitals. Solely relying on one's savings for bearing medical expenses is not a good idea. Hence, choosing health insurance for surgery is necessary. This policy will protect you against a host of medical costs besides hospital bills. It would offer cover for expenses such as:
In-patient Hospitalisation including room rent, operation theatre, and ICU charges
Day-care treatment including day-care surgeries
Pre-hospitalization Medical Expenses incurred for 30 days before admission
Post-hospitalization Medical Expenses incurred for a period up to 60 days after discharge
What is the benefit of an Operation Insurance policy?
An operation insurance policy reduces the burden of expensive medical procedures by offering a financial safety cushion. This policy is highly beneficial as it provides:
Cashless claim facility for treatment at a network hospital
Income Tax benefit under Section 80D of the I-T Act
The flexibility of equated monthly or quarterly installments
Additional benefits such as no claim bonus and annual health check-up
Difference Operation Insurance vs Health Insurance
Many people are gradually realising the importance of buying a health insurance plan, which will safeguard them during medical emergencies. A health plan offers numerous benefits and covers those medical expenses that are not just restricted to hospitalisation.
While this is true, it is also essential to have a specific health cover for surgery. It could be possible that your existing health policy becomes insufficient to cover all the expenses you are incurring due to an illness. Choosing an operation insurance cover is a wise decision as it will provide an additional cushion by covering the surgical procedures as defined in the policy document.
Kindly refer the prospectus for a complete list of procedures covered