International Second Opinion Second opinion is always helpful if you are not satisfied with the first opinion. This plan allows you to take International Second Opinion if needed.
Lifelong Renewability The plan comes with lifelong renewability, which means you can stay protected against life-threatening diseases for your whole life.
Annual Health Check-ups Annual health check-ups are offered under the plan to ensure the early detection of critical illnesses.
What is Excluded under Critical Illness Insurance Cover?
Sometimes policyholders end up disappointed with their insurance plan because of misinformation about the policy coverage limits. Hence, it is advisable for policy buyers to carefully go through the exclusions of our plan to avoid such a situation in the future.
Claims deriving from the following are excluded:
Act of self-inflicted injury attempted suicide or suicide
Any illness related directly to the consumption of alcohol/ tobacco/cigarettes, etc.
HIV or any other sexually transmitted disease
Cosmetic or plastic surgeries or related treatment
Pregnancy, miscarriage, childbirth, maternity including C- section, abortion, or complications of any of these All the hazardous activities
Damage caused by a nuclear, chemical, or biological attack or weapons
Illness or injuries caused due to any breach of law by the insured with any criminal intent
Critical Illness List: Diseases Covered Under the Policy
Our plan offers comprehensive coverage that helps policyholders to combat critical illnesses. Here is a critical illness list of 32 medical conditions that are covered under this policy: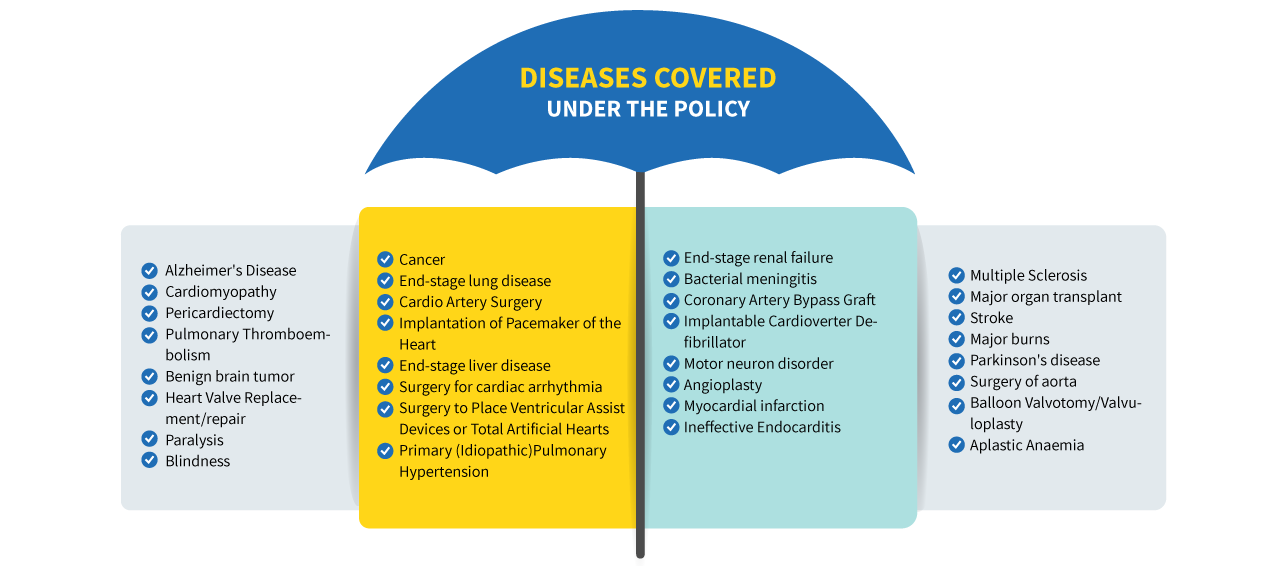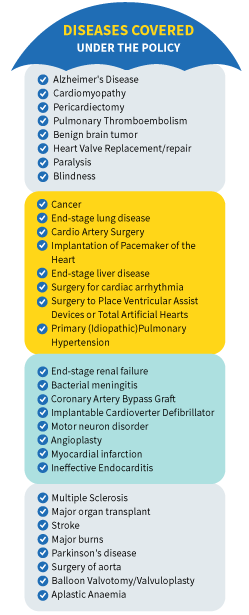 Disclaimer: Do refer to the prospectus as the list may change without prior communication.
How Important is Critical Illness Insurance for Family?
While we wish for a happy life free of difficulties, challenges do arise. One example of such a challenge in life is being diagnosed with a serious illness, leading to financial troubles. Any severe illness or disease can have emotional and financial distress to an individual. Conventional health insurance coverage may be advantageous on any given day but a plan tailored to cater to critical illness needs can be a better alternative to deal with the financial consequences. It is advantageous in the following ways:
This coverage is a safety net that protects you in the most significant way possible. It covers 32 critical illnesses.
Because this indemnity-based plan covers numerous medical expenses you incur throughout the year, a high sum insured provides you with total security.
You have extensive financial protection for hospitalization and advanced medical procedures, such as chemotherapy and radiotherapy, essential for treatment.
Things to Keep in Mind While Buying Critical Illness Insurance Policy
Critical illnesses can necessitate long-term treatment in most cases. A hurried lifestyle, in addition to inherited factors, might trigger the occurrence of such medical disorders. When selecting such a policy, bear the following aspects in mind:
Budget: If you have enough financial resources to deal with an unforeseen medical problem, you might choose the best critical illness insurance with less coverage. However, remember that healthcare expenses are rising at an unprecedented rate, so relying only on savings could cause irreversible financial loss.
Health Needs: Understand your health needs to get the best critical illness policy in India. For instance, if you are more prone to suffer from a particular disease because of your family health history or the nature of your occupation, then make sure your plan covers the specific condition adequately.
Inclusions: Each policy comes with its set of benefits. Hence, it is crucial to understand what a particular plan offers to align with your needs appropriately.
Limitations: It's just as vital to know what's not covered by your critical illness insurance plans as it is to know what is. Along with this, make sure to check the policy's waiting period to avoid any rejected claims in the future.
Claim Process: As a policyholder, it is in your best interest to know about the documentation you will need to provide and the procedures for filing a claim so you will be ready when the time comes.
Coverage Size: A standard health insurance policy will not be able to cover the costs of therapy. So, choose a critical illness health insurance plan with a fixed benefit that covers the treatment of such urgent conditions. You can get a critical illness insurance quote online easily on our website.
Claim Settlement Ratio: An insurance provider's claim settlement ratio indicates their ability and intent to settle the claims. Hence, consider the claim settlement ratio before making your purchase decision.
Eligibility Criteria for Purchasing Critical Illness Plan
Entry Age- Minimum
Child: 91 days to 4 years with at least I member of age 18 years or above is covered or; 5 years on Individual basis
Adult: 18 Years and above
Entry Age- Maximum
Lifelong
Exit Age
No Exit Age
Age of Proposer (Adult)
18 Years or above
Who are covered (Relationship with Respect to the Proposer)
Self, legally married spouse, son, daughter, father, mother, brother, sister, mother-in-law, father-in-law, grandmother, grandfather, grandson, granddaughter, uncle, aunt, nephew, niece, employee or any other relationship having an insurable interest.
How to Buy Critical Illness Insurance Plans Online at Care?
To buy critical illness insurance online from us, you do not need to get into the cumbersome formalities. Our buying process is simple; you can follow the below steps to get your critical illness health insurance:
Visit our website and select a health policy.
Click on 'Get Quote' and provide relevant details
Choose any of our secure digital payment modes to buy the policy.
You will get the new health policy documents on your registered email-id
Documents Required for Critical Illness Insurance Claim
If you need to file a claim, contact us to make a claim registration. To file a claim, you'll usually need the following documents:
A fully completed claim form
A photocopy of your ID card
A doctor's certificate verifying the diagnosis of critical illness
Summary of the discharge
Claim team processes your claim as soon as the documents get verified.
Tax Benefits of Critical Illness Insurance Plans in India
The premium for critical illness health insurance is deductible under Section 80D of the Income Tax Act of 1961. Below are the tax benefits you can get on the premium you pay for the necessary illness policy according to the age:
Those under age 60 can claim a tax deduction of up to Rs 25,000 per year for their spouse and children.
A maximum of Rs 50,000 is authorized for those over 60 to maintain a health insurance policy or medical treatment.
You can claim a deduction for the premium paid on behalf of your parents. If they are under the age of 60, the upper limit for the tax benefit is Rs 25,000. The threshold is 75,000 for parents over the age of 60. As a result, if you pay a premium for your entire family, you can save up to Rs 75,000 on your taxes.
If you are over 60 and pay your parents' premium, you are eligible for a maximum deduction of Rs. 1 lakh under Section 80D.
How is Critical Illness Cover Different from Health Insurance?
Often, people get confused between a standard health insurance plan and a critical illness insurance policy. Not only that, but some of us believe that one of the two is sufficient in terms of health insurance.
Know how health insurance and critical illness insurance are vastly different from each other:
| Factors | Critical Illness Insurance | Health Insurance |
| --- | --- | --- |
| Coverage | It covers hospitalization due to life-threatening critical illnesses. | It covers standard hospitalization conditions and treatment expenses. |
| Benefits | Pre-and post-hospitalization, organ donor cover, dialysis cover, psychiatric counseling, etc. | In-patient hospitalization, pre and post-hospitalization, daycare treatments, ICU charges, and more. |
| A number of illnesses | 32 critical illnesses | Different types of chronic diseases, medical treatments, and procedures. |
| Waiting Period | 90 days initial waiting period (48 months for pre-existing diseases) | 30 days initial waiting period (48 months for pre-existing diseases). |
| Policy Period | Long-term Policy | Annual or Long-term Policy |
| Policy Renewal | The policy can be renewed after a claim year. | The policy can be renewed after a claim year. |
Health Insurance with Critical Illness Cover is a blessing in disguise for those who are vulnerable to falling prey to any critical illness due to family history or lifestyle