Benefits of Super Top Up Health Insurance Plan
Flexibility: You can choose the deductible and the best among a wide range of sum insured options max up to 55 lac*.
Annual health check-up: Avail health check-up for adult insured members under the policy – regardless of claim history.
Enhance Anywhere: Get select medical treatment anywhere across the world under the benefit- Enhance Anywhere.
Day Care Treatment: Our policy provides coverage for various modern day care treatments.
No Sub-limit: The policy does not have a sub-limit on ICU charges, doctor's fee, etc.
Cashless Hospitalization: Get immediate medical care with the cashless treatment facility at leading network hospitals across the country.
Tax Savings: The policyholder is eligible for tax benefits as per Section 80D of the Income Tax Act of India 1961.
Unique features of Top Up Mediclaim Policy
One policy for the entire family
You can avail of long term policy discount on buying super top up mediclaim policy for more than 1 year. Focus on adding more to your savings with premium discounts on a 2-year and 3-year policy.
Discounts with Multi-year Policies
You can avail of long term policy discount on buying health insurance super top up plans for more than 1 year. Focus on adding more to your savings with premium discounts on a 2-year and 3-year policy.
Comprehensive Protection
Not just your hospital bills, other medical expenditures you may incur during medical treatment, like doctor's consultations, medication, follow-up visits, etc., will be covered under this plan, giving you complete protection from a financial strain.
Cashless Hospitalization Facility
With the facility of cashless hospitalization, you will be no longer worrying about medical bill payments. Get admitted at a network hospital empanelled with us, and you can concentrate only on your recovery; we shall take care of the rest! We will settle your expenses directly with the network hospital, subject to policy T&C.
Direct Insurance Claim Filing
Whether it is a planned medical treatment or emergency hospitalization, just present the Care Health Card at any of our 19000+ leading network hospitals and access the cashless service. To get reimbursement of your expenses when you opt for a non-network hospital, simply notify us immediately about the claim. You can call us directly and submit the specified documents to us. We will process your claim, subject to policy T&C.
Free Look Period
We help you in reviewing your decision about purchasing the policy. If you find it unsuitable for your needs, you can cancel and return it to us. The policy gives you a free-look period of 15 days from the date of receipt of the policy.
How Health Insurance Top Up Plan Works?
Enhance - Our Super Top Up Plan is based on the principle of Policy Deductible. That is, you will need to bear a pre-defined amount from your pocket during a medical event. We will bear the rest, up to the sum insured, subject to policy T&C.
Here's an example: Suppose you have chosen
If you opt for a ₹ 6 lac sum insured with a deductible of ₹ 2 lacs, then 2lacs will be borne by you and ₹ 6 lac over and above the deductible will be borne by us during the policy period.
Why Should You Get a Mediclaim Top Up Plan?
Rising Healthcare Costs: The growing health risks caused due to the increasingly fast-paced lifestyle and soaring healthcare costs are hinting at a rise in overall medical expenses we might incur in a year. Investment in the best super top up health insurance plans in India will provide you a shield that will keep your savings intact in medical emergencies.
Helps Boost Your Health Cover: Going for a super top up plan is an affordable way to boost your existing health coverage. It is the best solution to get an increased sum insured for your medical expenses without spending on a high premium.
Financial Cushion for Medical Emergencies: Not every family in our country thinks that one's savings are enough to bear medical treatment costs. Often, the mediclaim provided by an employer or sometimes, personal health cover too proves inadequate, given the towering scale of expenses. In such a scenario, the additional health coverage by super top up health insurance comes to the rescue.
Suitable Option for Ageing Parents: As a person ages, the chances of illnesses and hospitalization increase. So, even if you have exhausted your existing health cover, the super top up plan comes into the picture, giving you the financial strength when managing treatment for your old parents.
Crucial Support for Critical Diseases: Sometimes, expensive medical treatments can bring financial hardships. It is especially valid when there is a critical illness to deal with, and the expenses are too high to afford. So, getting a health insurance super top up plan early in life helps in the long run, considering surgeries and treatments would become expensive owing to medical inflation.
Offers Tax Benefits: Here is an opportunity to secure your savings as you become eligible for an income tax deduction on the premium paid for this policy, as per Section 80D of the Income Tax Act. You can claim a deduction from Rs 25,000 to a maximum of Rs 1,00,000 in a year, depending upon the insured member's age.
>> Also Read: Difference between Top-up and Super Top-up Health Insurance Plans
When Should You Use a Super top-up Health Insurance Plan?
Ideally, every family should consider investing in a health cover with a high sum insured that is adequate to cover all the medical expenses one might incur, whether during a planned treatment or in an emergency.
Now, instead of paying a higher premium by upgrading your existing health cover, you can go for a super top up plan. It will also give an edge over health top up plans that only cover single claims in a year. Here are individuals or groups who will significantly use a super top-up health policy:
Senior Citizens and Elderly Family Members: It can be expensive to go for a health insurance plan after a certain age, as the premium tends to be on the higher side. Consider opting for a super top up plan as it is affordable and gives a high sum insured for any medical necessity your parents or aged family members may face.
Anyone who Plans to Increase Health Coverage: If you think your existing health plan may not cover your major medical expenses, it is wise to choose a super top up plan to increase your overall health coverage.
Those who rely on Employer Mediclaim: Your corporate mediclaim policy may become inadequate when there are substantial medical expenses to meet in a year. Choose super top up plans and get the protection you need in any unforeseen hospitalization.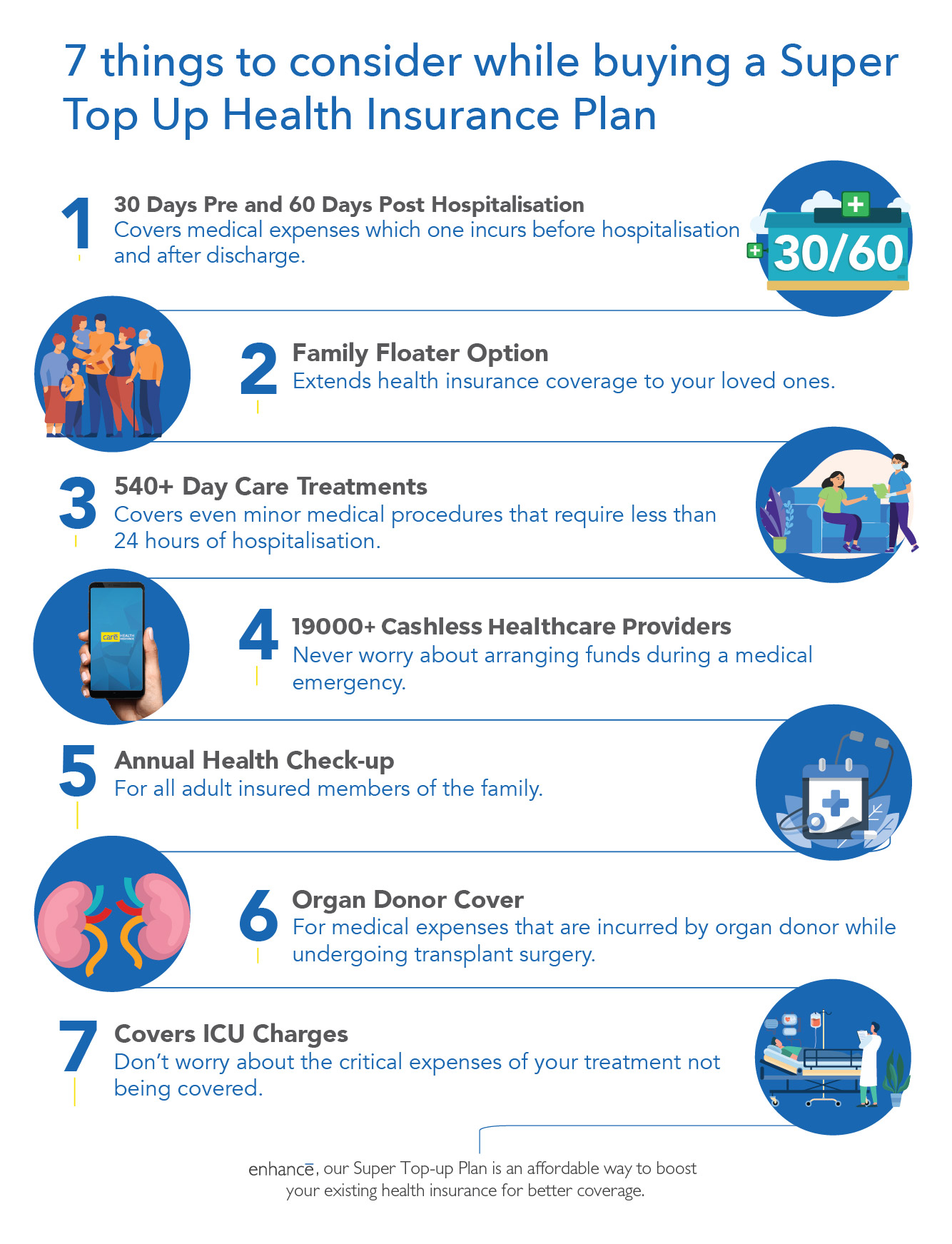 Factors to Consider While Buying Super Top Up Mediclaim Policy
A super top up insurance plan serves you as a financial back-up if your existing health coverage proves insufficient to meet your immediate medical expenses. To help you pick the best super top up health insurance plans in India, here are quick points you can remember when looking for a policy:
Sum Insured: Considering the rate of medical inflation and the need to secure health, super top up plans with a higher sum insured become the right choice.
Deductible: The deductible an insured chooses will directly impact the premium cost for the policy. Usually, there is a higher premium for a low deductible option. Similarly, a super top up plan with a high deductible has a more affordable premium cost. So, it is crucial to choose the deductible wisely so that you can comfortably bear the medical expenses with your base health insurance plan – a mediclaim, family floater, or an individual plan.
Premium: The premium is calculated after considering several factors. Reviewing the super top up plans and their various benefits, and selecting the right deductible option, will help you opt for a policy with an affordable premium.
Benefits: Go through the policy documents once to understand the inclusions and choose a plan that suits your needs.
Co-payment: Check the co-payment clause, and select a policy where you or your elderly parent will not have to bear a high amount.
Cashless Hospitalization: The best top up mediclaim policy offers cashless hospitalization facility. Do check the network hospitals where you can easily avail of cashless medical treatment.
What is Covered under Super Top Up Health Insurance?
The hefty medical bills and skyrocketing healthcare inflation create a financial burden for the patients and their families; in such situations, a super top up mediclaim policy acts as a reservoir. Let's check what all it covers:
Hospitalization Cover
Some hospital bills can lead to loss of savings. With the super top up health insurance, you can now forget about this potential burden. We will cover the expenses towards hospital room charges, nursing expenses, ICU charges, surgeon's fee, doctor's fee, anesthesia, blood, oxygen, and operation theatre charges, subject to policy T&C.
Pre Hospitalization Medical Expenses
Your journey to recovery starts even before you are hospitalized, which slowly adds to your medical bills. With the super top up policy, your medical expenses incurred 30 days prior to hospitalization will be covered.
Post Hospitalization
The time after hospitalization is crucial and demands utmost medical attention. You might incur more medical bills, which could be significant. The super top up policy will cover medical expenses incurred up to 60 days after hospitalization, keeping you financially safe.
Annual Health check-up
To help you keep track of health, we provide the benefit of an annual health check-up you can avail, for yourself and your family under this super top up health insurance plan.
Organ Donor Coverage
When dealing with an ailment, the medical expenses one might incur on an organ donor while undergoing the organ transplant surgery are covered under this super top up plan.
Advanced Medical Treatment
We help you get advanced medical care without any financial worry, as our plan will provide adequate protection and cover for treatment procedures, including robotic surgeries.
How to Buy Super Top Up Health Insurance Plans Online?
You can opt for our super top up plan online in few simple steps:
Go to the official website of Care Health Insurance and select Enhance
Enter the required details, including the contact number
Generate the health insurance quote
You can customize your policy by selecting the policy tenure, the sum insured, and add-ons
Fill in the relevant details, such as your age, pre-existing diseases, etc
Submit the documents if required
You can choose convenient payment modes using any secured payment mode like net banking, debit or credit card, payment wallet, and pay health premium online. You are now secured!
You will receive a health insurance policy document on your registered email id. The policy documents will include policy numbers and e-card
What is Not Covered under Super Top Up Health Insurance?
Policyholders can prevent facing a possible hassle when filing a claim by knowing about the exclusions, the things not covered under super top up and health top up plans. Some exclusions are:
Pre-existing Ailment Before Completing the Waiting Period: The policy will not cover any pre-existing ailment/injury that was diagnosed /acquired within 48 months before the first policy issuance.
Expenses during the Initial Waiting Period: The policy will not cover diseases contracted during the first 30 days of the policy start date except those medical expenses arising out of accidents.
Self-inflicted Injury: The policy will not cover any expenses attributable to self-inflicted injury (resulting from attempted suicide or suicide).
Maternity: The policy will not cover treatment arising from or traceable to pregnancy and childbirth, miscarriage, abortion, and its consequences.
Infertility: It will not cover medical treatment expenses relating to infertility and in vitro fertilization.
Non-allopathic Treatment: Expenses related to non-allopathic treatment will not be covered.
Cosmetic or plastic surgeries: The policy will not cover medical expenses incurred for cosmetic or plastic surgeries.
Unproven Treatments: Expense related to any unproven treatment, services, or supplies lacking significant medical documentation to support their effectiveness will not be covered.
Who all are Eligible for Coverage under Super Top up Policy?
The eligibility criteria for availing of our Enhance super top-up policy are as follows:
Minimum Entry Age in Individual Cover: The age eligibility for adults is 18 years or above, and for children, the age eligibility is from 5 years to 24 years.
Minimum Entry Age in Family Floater Cover: Under the floater plan, the age eligibility for adults is 18 years or above. The age eligibility for children is from 1 day to 24 years, with at least one insured member of 18 years or above.
Maximum Entry Age: There is no maximum limit on entry age for this policy.
Age of the Proposer: Minimum 18 years or above.
How to File a Claim under Super Top Up Plan?
For a super top up plan, we have a simplified claim procedure to help you stay worry-free. You can file a claim in two of the following ways:
Reimbursement Claim
Duly fill the reimbursement claim form.
Submit the form along with all the required documents to us.
Our claim management team may raise the query if required.
Once document verification by the claim management team is done, we will send you an approval letter.
After approval, we will reimburse the hospitalization expenses, subject to policy T&C.
Cashless Claim
Select any of our network hospitals and approach the hospital insurance desk.
Submit the pre-authorization form, and share the required identify proofs.
The hospital will send us the documents and the pre-authorization form.
Our claim management team may raise the query if required.
After document verification, the hospital will receive an approval letter from our claim management team.
Note: Notify our support team within 24 hours of hospitalization in a medical emergency and before 48 hours in planned hospitalization.