Benefits of Buying Health Insurance at Early Age
You spend less on Premium: Age is a crucial factor on which health insurance premium depends. The premium paid by an older person is much higher than what a young person, say in his 30s, would pay for the same sum insured.
No need for Pre-policy Medicals: The younger you are, the easier it is to get a health cover without any need for a pre-policy medical test. Such tests may be mandatory for people above a certain age bracket.
Helps plan for the future: Getting a health cover after contracting an illness has more cons than pros. Investing much early will give you the right financial support when there is an actual need, especially in case of critical illness.
The waiting period does not pose a challenge: Early exhaustion is one key advantage. A health cover you got early in life will give you timely coverage for various treatments at the right time.
Lesser chances of health issues: When you are young, there are high chances you are in good health with no pre-existing condition – a factor that can increase premium costs. Moreover, we issue a policy without loading.
Lifelong Coverage: Once you have invested in a health policy, you can forget about getting another policy in future as it can be difficult. With the lifelong renewability option, you can continue the same policy and get accumulated benefits like no claim bonus, thus ensuring your financial security.
Reach out to us to know more about personal medical insurance.
*Please read the policy T & C, brochure, and prospectus to know more about our health insurance plans cover as it may vary
Features of Health Insurance Plans for Individuals
Here are some prominent features of our personal health insurance policy:
Medical Treatment and Hospitalization Cover: The policy provides comprehensive coverage for hospitalization and various medical expenses.
Cost-Effectiveness: The premium for an individual health insurance plan is lower than the family floater cover.
No Maximum Age Limit: There is no maximum age bar for those intending to buy this policy.
No Pre Policy Medical Check-Up:If the insured amount is below 15 lakhs or the individual is below 45, they are not required to undergo any medical test.
Organ Donor Cover: Our Individual Health Policy provides organ donor cover of ₹1,00,000, unlimited coverage of ICU charges, and annual health check-ups.
Tax Benefit: Under Section 80D of the Income Tax Act, one can avail of tax benefits on the premium paid.
Benefits of Individual Health Insurance
Our Individual health insurance benefits are plenty, and each of them ensures that come what may, it protects you under your individual mediclaim policy. Take a look at these points to understand why individual health insurance is required:
A Better Option for Working Professionals: Many rely on employer-provided group mediclaim to secure their health. However, one fails to understand that such a policy will stop providing coverage when one leaves the company, whereas individual health insurance will give lifelong coverage.
Financial Security after Retirement: Getting an individual health cover early in life sets the stage for a comfortable retirement. It is easier to get it without pre-policy medical tests when you are young. You can get continued cover under the same plan for the rest of your life through the lifelong renewability feature.
Suitable for the Elderly: Including elderly family members in a family floater plan may not be a good idea as it can increase the premium. So, get a separate individual health cover, more so because their health needs differ. With benefits like alternative treatment and annual health check-ups, it becomes easy for senior citizens to manage their health better.
Helps tackle Medical Inflation: Healthcare costs are rising at a faster rate. Health insurance protects your savings when coping with medical treatments or hospitalization that may happen due to unforeseen reasons.
Safeguards against Rising Health Issues: Hectic routine and workload is no excuse to lead an unhealthy lifestyle. Yet, many become susceptible to stress and chronic diseases. The pandemic has further increased health risks for all of us. So, health insurance proves indispensable in securing your health.
Pre-existing Diseases and other Ailments Covered: A policyholder will also get coverage for pre-existing illnesses and other ailments after a specified waiting period. One can look forward to coverage for treatments like knee surgeries and cataract treatment.
Comprehensive Coverage and Flexibility to Customize: Unlike mediclaim, health insurance for individuals offers flexibility to customize and choose optional benefits. In today's scenario, it also provides coverage for coronavirus treatment, subject to policy T&C.
Cashless Hospitalization: One of the seamless benefits of having health insurance for individuals is cashless hospitalization. God forbid! During any medical emergency, you can avail of cashless treatment, and there is no need to make an upfront payment for hospital bills.
Affordable if you get it early: Investing early in individual health insurance lowers the chance of paying a high premium and gives you coverage for any ailment without delays.
No Upper Age Limit: If you are 18 years old or above, you can buy our health insurance plan without any age restriction. There is no upper entry-age limit for an individual to get enrolled in the plan.
Add on Covers: Enhance the policy coverage with several add-on covers such as Covid Care, Discount on services, e-consultation, OPD coverage, and many more.
Discounts: Discounts on our individual health insurance policy makes you smile. It reduces your premium amount and gives ease to your monthly budget. Explore the options and choose a longer policy term to avail of premium discounts terms.
Tax-saving Investment: Secure your health and wealth. One is eligible to get a maximum deduction of up to Rs 25,000 per year, under section 80D of the I-T Act, on the insurance premium paid. Senior citizen individuals can get a higher deduction of up to Rs 50,000. The total deduction one can get is up to Rs 1 lakh if the proposer and insured are above 60 years.
>>Know About Pre-Existing Disease Health Insurance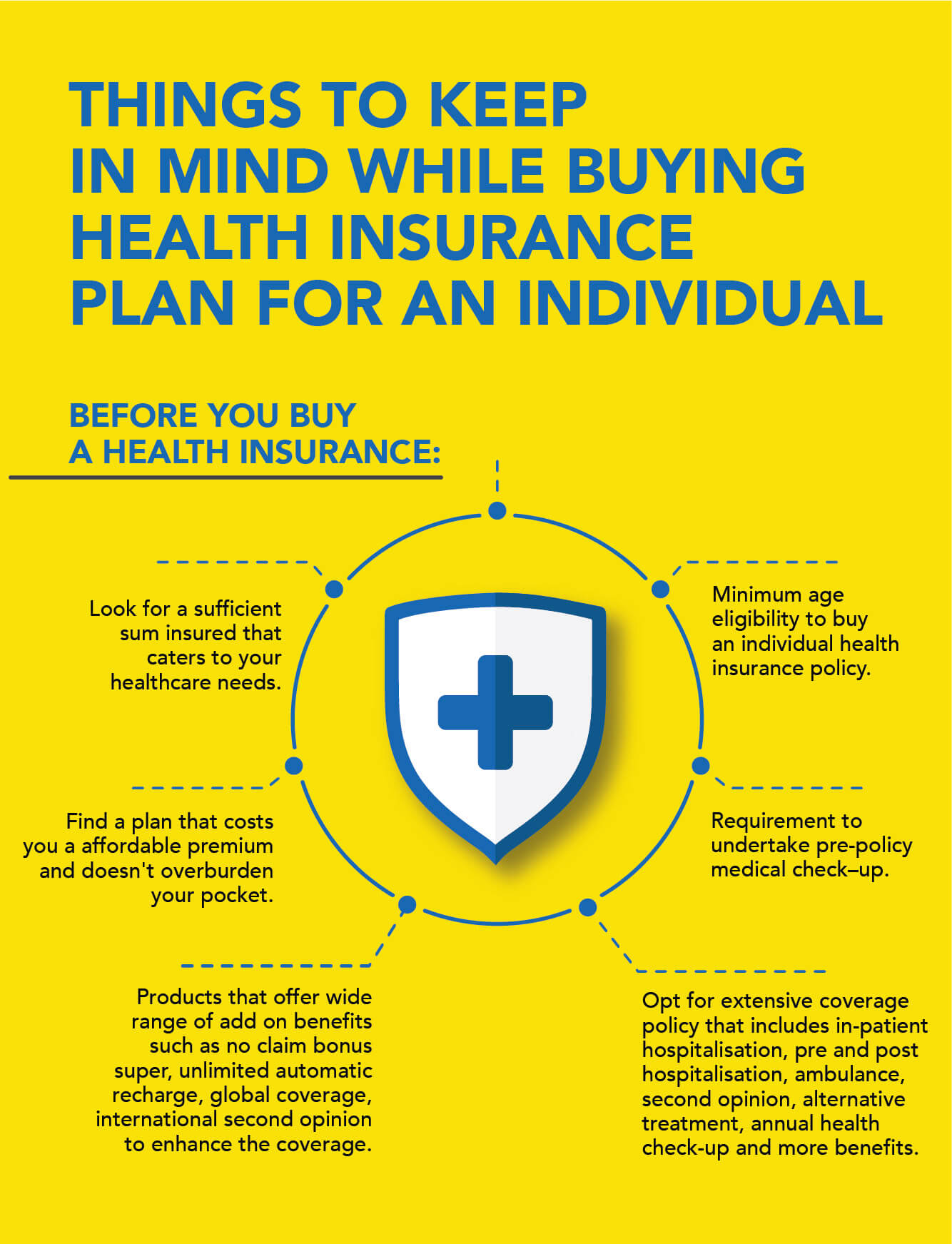 Things to Keep in Mind While Buying Health Insurance Plan for Individual
Individual health insurance gives you a financial cushion during a medical emergency and reduces monetary stress. Thus, it's essential to opt for personal health insurance wisely. Consider these below things while buying it:
Minimum age criteria to buy the individual medical insurance policy
Look for a sufficient sum insured that cater to your healthcare needs
Opt for the plan that costs you a lower premium and do not overburden your pocket
Check if there is a requirement for pre-medical tests to get health policy
Go with an extensive coverage policy that includes in-patient hospitalization, pre and post hospitalization, ambulance, second opinion, alternative treatment, and more
Avail of add-on benefits such as no claim bonus, automatic recharge, global coverage, international second opinion, and annual health check-up to enhance the coverage.
Check the tax exemption eligibility under health insurance for individuals
>>Also Read
What does Health Insurance for Individuals cover?
We offer health insurance plans for individuals with adequate coverage at an affordable cost. It encourages youngsters to get insured at a young age and reap its benefits later in life. Let's check what our personal health insurance covers:
Hospitalization Costs: Like other health insurance plans, individual health insurance will cover your various hospitalization-related expenses during any illness or injury. That includes in-patient care, ambulance, ICU Charges, room rent, etc.
Pre and Post Hospitalization: Speedy recovery needs timely doctor consultation, medicines, diagnosis, etc. We cover them up to 30 days before hospitalization and up to 60 days after hospitalization.
Modern Daycare Treatments: Thanks to advanced medical technology, several medical treatments are completed quickly. We cover expenses for such daycare procedures.
Domiciliary Hospitalization*: When there is a need for availing of hospitalization at home, we cover such expenses for a defined period.
Annual Health Check-Up: Save your money on health check-ups and keep track of your health condition. Avail health check-ups under the policy coverage once in a policy year.
AYUSH Benefits: AYUSH (Ayurveda, Unani, Siddha, and Homeopathy) helps you with sustainable treatment. If you find alternate treatment safe and suitable, stay worry-free as we cover hospitalization expenses for that as well.
Organ Donor Expenses: When an organ transplant may become necessary in your road to recovery, we will cover the medical and surgical expenses for harvesting a major organ for transplant.
No Claim Bonus: We reward you for your good health every claim-free year. The accumulated bonus will keep you financially secure through an increase in sum insured by 10% up to a maximum of 50% in 5 consecutive years.
Auto Recharge of Sum Insured: If you ever run out of your existing sum insured, we will reinstate the entire sum insured amount once in a policy year to enable you to cover any hospitalization that might happen again in the year.
Discounts: We let your savings grow. Avail premium discount on choosing a multi-year policy. Get a discount of up to 10% for a 3-year policy term and up to a 7.5% for a 2-year policy term.
Lifelong Renewability: After opting for our health insurance plans, sit back and relax. You can continue the policy for lifelong on break-free policy renewals, thus ensuring financial security for the future.​
Do not fret too much to buy the best personal health insurance plan when you have Care health insurance taking care of every need at your disposal.
What does Personal Health Insurance not cover?
We have some exclusions under health insurance plans for individuals. These are the diseases/ medical procedures/treatments/ excluded from the policy coverage. Read what all this policy doesn't cover:
Act of self-inflicted injury attempted suicide or suicide
Any illness related directly to the consumption of Alcohol/Tobacco/Cigarettes, etc. or any sexually transmitted disease
Cosmetic or plastic surgeries or related treatment
Pregnancy, miscarriage, childbirth, maternity including C- section, abortion, or complications of any of these
All the treatments required due to participation in hazardous activities
Damage caused by a nuclear, chemical, or biological attack or weapons
Illness or injuries caused due to any breach of law by the insured
How does Individual Health Insurance coverage work?
It is always necessary to be wise when it comes to buying individual health policy. Being an individual one always strives to buy the best individual health insurance to attain protection in life.
Buying an adequate individual mediclaim policy is more like achieving a milestone in the journey of life. There are times when one goes through unforeseeable circumstances and looks for refuge and that is when personal medical insurance comes to the rescue.
Individual health plans aim to hold your hand in times of crisis and give you coverage. The best Personal insurance ensures support and reassurance so that you can be relieved from the financial burden of hefty treatment costs these days.
You have to sign an agreement that states all the terms and conditions when you purchase individual health insurance for yourself. The agreement also states that your insurance provider will cover your healthcare costs up to the amount of the sum insured and in return, you have to be regular with the payment of your premium.
For instance, if you have an individual health policy with a sum insured of Rs. 10 lakhs. After buying the policy if you get hospitalized, your insurance provider will help you cover the hospital bills as per the terms and conditions of the policy you have bought. You get your bill of around 3 lakhs that cover all your expenses, your insurer will settle the bill with the hospital and save you from all the helter-skelter of standing in queues. After paying the bills, your sum insured for the year will be reduced to 7 lakhs.
Before you buy personal health insurance, make sure you do active research and compare the plans to be safe in the future. CHI provides personal health insurance quotes at your fingertips so that you don't have to spend most of your time understanding and purchasing individual health insurance.
Individual Health Insurance Vs. Family Floater Cover
While individual health insurance has innumerable benefits, family floater cover might be a better option in certain circumstances. Here are a few differences to consider before picking either of the plans:
Sum Insured: In a family floater plan, the entire family gets insured under a single policy. One individual or the whole family can avail the entirety of the amount. The amount will keep reducing as each member makes a claim. Under medical insurance plans for individuals, each member's sum insured remains intact when one member makes a claim.
Premium: In the case of a family floater plan, the premium depends entirely on the age of the oldest member in the plan. As for individual policies, the premium depends on the age of the individual. Family floater plans are comparatively more affordable. The differences in premium can be as high as 20% when compared to an individual policy.
Family Members: If you have a small family, then a floater plan is a good option. If elderly members in your family are already suffering from ailments, then an individual policy might be the better alternative.
Coverage: Compared to an individual policy, in a family floater plan, the coverage is extended to the insured members of the family. Although additions are limited, specific policies allow you to add extended family members.
How to buy Individual Health Insurance?
An individual health policy is the safest way to protect your health and finances as it provides coverage against any possible certain or uncertain risks.
Here is a quick summary of the various steps you should follow for making online insurance payment:
Visit our website and select a health policy.
Click on 'Get Quote' and provide relevant details
Enter the required information and customize your policy
The system will redirect you to the payment section
Make payment through any secure digital payment modes
You will get the new health policy documents on your registered email-id
If you are still doubtful about purchasing individual health insurance while sitting at home, call us at 1800-102-4499 and get immediate assistance. We will be happy to help you!
Popular Searches
Health Insurance for Family | Health Insurance for Diabetes | Health Insurance for Heart Patients | Senior Citizen Health Insurance | Super Top Up Health Insurance Plan | 1 Crore Health Insurance | Health Insurance with Maternity Cover | Critical Illness Insurance | Cancer Insurance | Mediclaim Policy | Health Insurance Tax Benefits | GST on Health Insurance | Health Insurance Claim Settlement Ratio | Cashless Health Insurance