When Should I Buy Maternity Insurance?
Health insurance with maternity cover often comes with a waiting period, so when you are ready to start your family, opt for it. We have a waiting period for our maternity insurance policy that ranges from 9 months to 24 months, depending on the type of plan you have opted for. It's wise to buy maternity cover insurance in advance to welcome your baby stress-free.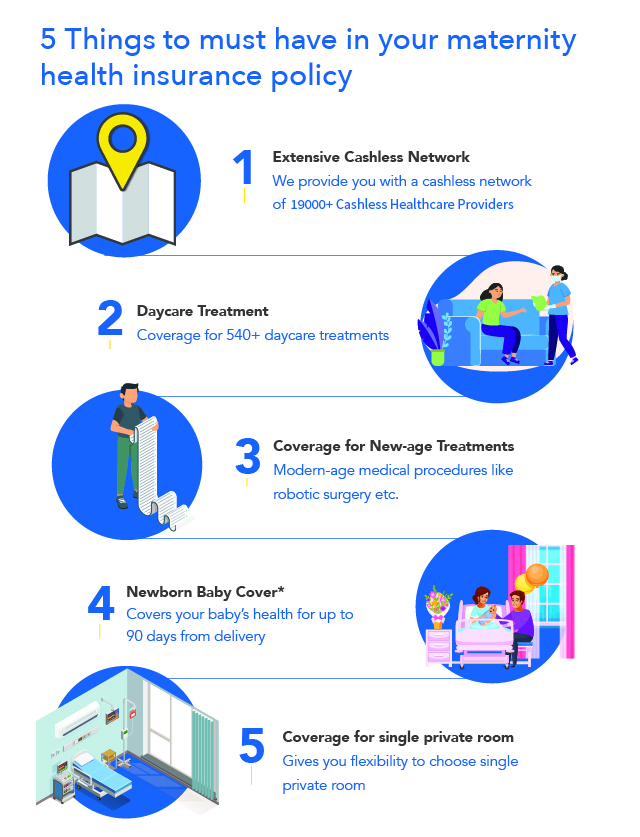 Things to Consider Before Selecting Maternity Health Insurance
While every mother-to-be in our country deserves the best care in most joyous life phase, managing the exorbitant maternity care expenses can be difficult without maternity cover insurance. Hence, the right way of financial planning is buying health insurance with maternity coverage, ensuring healthier and happier motherhood.
To enable you to decide on the right maternity cover, here are some points you should consider.
Choose the best Maternity Cover Insurance plan that gives you financial protection against various medical expenses and not only hospitalization expenses.
Savings is crucial for every family. Thus, look for premium discounts you can avail of, such as a discount on a multi-year policy.
Go through the list of cashless network hospitals so that you know you have easy access to cashless hospitalization in time of need.
Read the policy documents to understand the policy inclusions, exclusions, sub-limits, and waiting period.
You can get maternity cover at an affordable premium by carefully comparing and selecting the right policy with maximum coverage and benefits.
Newborn baby cover, daycare procedures, and new-age treatments are a few must-have benefits you should look for in a maternity plan.
Find out the procedure to file a Pregnancy Insurance claim, so you need not face any hassles or delays.
Importance of Health Insurance with Maternity Cover
Expecting mothers must consider the best healthcare facilities for the healthy delivery of their newborn. Safe healthcare also ensures that mothers do not have to undergo complications during the joyous moment of their lives. Thus, maternity cover insurance is a must-have if you plan to conceive anytime soon.
Why is Health Insurance with Maternity Coverage necessary?
The normal delivery cost ranges between Rs 50,000 to Rs 80,000, whereas the C-Section costs around 1-2 lac in metro cities, depending on complications. Most couples in India are reluctant about parenthood in India due to the financial responsibilities that come with it. Therefore, a well-planned Maternity Insurance Policy can be your absolute companion when you wish to become parents.
You can enjoy your parenthood and focus on recovery without the stress of arranging finances.
How to Buy Maternity Health Insurance Online?
You can easily get JOY in few clicks. All you need to do is follow these simple steps:
Visit our official website
Go to 'Get a Free Quote'
Select either Joy Today or Joy Tomorrow
Enter the required details, including total member, age of the eldest member, contact number, tenure
Select the Sum Insured
Get the premium and secure yourself in just a few clicks
You will receive the policy documents on your registered email-id, including the policy number and e-card.
What is covered under Maternity Insurance?
Expecting women are more vulnerable to health problems and delivery-related complications. Whether it's a normal or cesarean delivery, the hospitalization expenses are skyrocketing. JOY- health insurance with maternity cover is helpful if you are planning a family. Furthermore, it ensures that the mother and her newborn get comprehensive coverage and the best healthcare facilities. Check below what all it covers:
Maternity Cover: Expenses incurred pre and postnatal can increase the couple's financial stress. But, JOY covers them and helps mother and her child recover faster under the doctors' supervision.
New Born Baby Cover: Health Insurance with Pregnancy Cover plan also has a newborn baby cover. It means that we cover your newborn's expenses from the day of delivery to 90 days to ensure good health.
Congenital Diseases: We will pay the amount as a lump sum if the newborn child is diagnosed with Down's Syndrome or Cerebral Palsy. No Claim under benefit- 'Newborn baby cover' shall be made in respect to the above mentioned health problems.
Direct Claim Settlement: We have kept claims procedures very simple. Whether it is an emergency or a planned hospitalization, all you have to do is present the Care Health Insurance's JOY Health Card at our network of more than 19000+ Cashless health care providers across India and avail the cashless service.
If you have opted for a non-networked hospital, inform us directly about the claim. We will process your claim as soon as we receive the specified documents.
Tax Benefit: Opting for our pregnancy insurance comes with two-fold benefits. It ensures good medical care for mother and infant and enables you to avail tax benefits on the premium you pay for it as per the Income Tax Act 1961*. Thus, health insurance that covers pregnancy comes with a double bonanza.
Free Look Period: JOY's Free Look Period keeps you at ease if you are unsure whether you have taken the right maternity cover insurance. If no claim has been made within this period. We will refund the insurance premium received after deducting the proportionate risk premium for the period on cover, expenses for medical examination, and stamp duty charges, as applicable.
What is not covered under Maternity Insurance?
Health insurance with maternity cover has exclusions. You can read what is not admissible under the policy:
Any pre-existing ailment/injury diagnosed/acquired within 48 months before issuing the first policy.
Any diseases contracted during the first 30 days of the policy start date except those arising accidents.
Non-allopathic treatment.
Expenses attributable to self-inflicted injury (resulting from suicide, attempted suicide)
Expenses arising out of or attributable to alcohol or drug use/misuse/abuse
Cost of spectacles/contact lenses, dental treatment
Medical expenses incurred for treatment of AIDS
Congenital disease
Tests and treatment related to infertility and in-vitro fertilization.
How to File a Claim?
Cashless Claim- Filing a cashless claim gets more manageable if you get treated in one of our 19000+ cashless healthcare providers. All you have to do is display your JOY Health Card at the hospital desk and avail yourself of cashless services.
Reimbursement- If you have opted for a non-networked hospital, inform us directly about the claim, and once we get the specified documents from you, we'll process your claim accordingly.