Critical illness insurance is a medical cover that provides financial assistance to insured members if they contract with an acute disease such as cancer, catastrophic burns, or coma, as pre-defined under the chosen policy. The insured individual might use the money to pay for medical bills and meet other financial responsibilities during the treatment of an illness considered critical. In cases where an earning member of the family is diagnosed with severe disease, it can be a valuable source of financial support since the primary income source may be compromised.
Today, millions of people are afflicted with life-threatening illnesses like cancer, stroke, kidney failure, and cardiovascular disease. Every day is a health challenge for those who have been diagnosed with such diseases. At the same time, the family has financial hardship as a result of the high treatment expenditures.
We at Care Insurance provide a specialized health insurance plan for critical illnesses – an easy to acquire individual and family health indemnity plan that covers 32 critical illnesses pre-defined in the policy.
If you are wondering what does critical illness insurance cover, here is everything you need to know: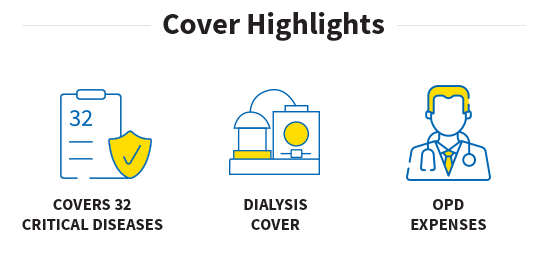 Who Should Buy Critical Illness Cover?
Once you have found the answer to the question – What does critical illness insurance cover? The next question on your mind may be – Do I really need it? The simple answer is yes, but let's delve deeper into who should be getting this coverage and why!
Individuals seeking protection against possible health emergencies can find a comprehensive shield with critical illness insurance, especially with a medical history. This plan can provide financial security when the individual is strapped for cash to treat their disease while still supporting their family.
However, it is essential to remember that a critical illness can happen to anyone. With the best critical illness policy in India, people can stay financially secure in the wake of uncertainties. The benefits of critical illness insurance are extremely valuable for:
Individuals with a family history of an illness - If a critical condition runs in the family, it just increases the risk for you. Thus, it becomes essential for you to take adequate coverage with this policy.
Breadwinning family members - A family's sole breadwinners must think about their family's financial security and get a critical illness early.
Individuals with high-risk occupations - According to several studies, those who work in high-pressure environments are more likely to suffer severe disease. Employees who work in high-pressure environments might consider purchasing a critical sickness policy.
Individuals above a specific age bracket - Once you cross a certain age, usually 40, the risk of some critical ailments increases. So, staying prepared with a health cover will set the stage for a secure future.
Women - The increasing cases of cancer in women are an alarming sign. Thus, investing in this policy is best advised if you are prone to such risks.
Benefits of Critical Illness Insurance
Purchasing health insurance is necessary to ensure financial security in the event of a medical emergency. People at risk of serious illnesses have a greater need for health insurance to cover the specific expenditures associated with their medical treatment. A critical illness plan meets this need by providing sufficient coverage for various medical bills, ensuring financial security. These health plans also make it possible for you to receive high-quality medical care at the top hospital without dealing with any hassles.
Here are some benefits of critical illness insurance that you should know about:
Financial Support
Your treatment costs are likely to exceed your budget, and your health insurance (if you have one) may not be sufficient to cover them. Furthermore, many health insurance policies exclude coverage for serious conditions. A single therapy procedure may be enough to wipe out a lifetime's worth of savings in other situations.
Comprehensive Coverage
Dealing with a severe health condition requires considerable financial backup. The healthcare costs, including tests, medicines, hospital stays, can become a massive burden if you do not have ample support. With Care Insurance Critical Illness Plan, you can get coverage for 32 critical illnesses.
Income Replacement
When an individual is battling a life-threatening disease, they may not be physically fit to continue working. As a result, they may lose their job, which means losing their steady income source. This can result in significant financial distress. The benefit from the health insurance critical illness can act as a savior in such a situation.
The policyholder can use the coverage amount in any way he sees fit. This is a significant benefit since the insurance proceeds can be used to replace the lost income and assist the insured in meeting his financial obligations.
Lower Premium
Since these plans cover specific life-threatening medical conditions. As a result, the premium for these policies are much lower than those for normal health insurance. However, premium should not be the sole parameter you consider when you choose a suitable plan.
You should undertake an in-depth critical illness insurance comparison on crucial parameters other than the premium to select an appropriate policy as a policy buyer. Lower premium can be an advantage, but only if they don't compromise the plan's coverage. You don't want to miss out on necessary benefits in a time of need. Hence, get a critical illness insurance quote online to get accurate cover and premium rates estimates.
Key Features of Health Insurance Critical Illness
Our insurance plan for critical illness contains the following significant elements when it comes to coverage against life-threatening diseases:
Comprehensive Coverage
Cancer, stroke, end-stage renal failure, and other serious illnesses are among the 32 ailments covered. Pre and post-hospitalization coverage, organ donor coverage, and dialysis coverage are all included. Along with this, psychiatric counseling for a quick recovery.
Affordable Premium
Comprehensive coverage with affordable premium rates so you can prepare for health emergencies without putting a strain on your present financial condition.
Quick Claim Settlements
Hassle-free claim settlements to provide timely financial assistance if a hospitalization claim is paid.
Payment Options
EMI payment options to reduce financial burden.
Customer Service
Customer service is available 24 hours a day, 7 days a week.
Cashless Claim Facility
You can avail of cashless claim facility at 19000+ healthcare providers.
How to Select the Best Critical Illness Cover Online?
Like any other insurance policy, you need to consider a number of factors when choosing the right insurance plan for critical illness. When you are making a critical illness insurance comparison, there are several aspects to consider. Hence, it is understandable if you find yourself struggling with the process. Like anyone else, you would want the best plan that suits your health and financial profile.
Therefore, we have devised a checklist of things you can go through to make sure you are purchasing the best critical illness insurance in India:
Check the Cover Amount
This is the amount you'll get if you're diagnosed with a life-threatening disease. The pay-out should be sufficient to assist you in the event of an illness financially. This decision can be made based on your savings as well as your other financial options.
Calculate Premium Rates
Most policy buyers shortlist insurance policies based solely on the premium rates, which is understandable. However, you must not sacrifice coverage in the process. You can use a premium calculator to get a critical illness insurance quote online.
Ensure Less Waiting Period
Critical Illness plans, like other health insurance plans, include a waiting period. This means you won't be able to file a claim against the policy for a certain amount of time. The waiting period could last anywhere from one to three months following purchase. At CHIL, we offer a standard waiting period of 90 days.
Find Out the Covered Illnesses
It is crucial to know which diseases are covered under the critical illness insurance plan. Especially if you are purchasing the policy because you have a family history of a medical condition, it is in your best interest to be aware of the coverage provided by the plan.
Learn About Renewal Policy
When it comes to renewability, these plans normally include a limit. After a certain age, the policy may not be renewed. Select a plan with a greater age restriction so that it can be renewed in the long run. Also, keep an eye out for claim sub-limits for surgery, diagnostic tests, and other procedures, for example.
What is Included in Critical Illness Insurance Plans?
The Care Insurance Critical Illness Plan provides cover for 32 life-threatening medical conditions. Here are the benefits included in the plan:
In-Patient Hospitalization Cover
Includes expenses for room rent, ICU costs, doctor fees, nursing fees, anesthesia, and other expenses.
Pre and Post Hospitalization Medical Expenses
We cover expenses up to 30 days before hospitalization and up to 60 days post-hospitalization.
Day Care Treatment
The term "day-care treatment" refers to medical treatments that need less than a 24-hour stay in the hospital.
OPD Cover
We cover the costs of doctor consultations, diagnostic tests, and pharmacy bills.
Cover for ICU charges
ICU cover refers to the expenses incurred during treatment in an 'Intensive Care Unit.'
Ambulance Cover
This refers to the coverage of expenses incurred when you take ambulance services and transportation in the event of a life-threatening sickness or injury.
Organ Donor Cover
Organ donor coverage is a component of a health insurance policy that provides reimbursement for organ donor fees up to a certain maximum for the policyholder.
Cover for Alternative Treatments Chemotherapy & Radiotherapy Cover International Second Opinion
Under this policy, you are covered for medical expenses incurred if you undergo alternative therapies.
Lifelong Renewability
The plan comes with lifelong renewability, which means you can stay protected against life-threatening diseases for your whole life.
Annual Health Check-up
Annual health check-ups are offered under the plan to ensure the early detection of critical illnesses.
How Can Care Health Insurance Plans Help You?
While searching for the best critical illness insurance in India, Care Health Insurance is a favorable option. We offer a comprehensive set of benefits that can considerably reduce your financial burden.
The following are some of the reasons why you should choose our plan:
We have a high health insurance claim settlement ratio, ensuring that your money is safe and that your claim will be processed on time.
Our web presence allows our customers to purchase the policy without going through complicated processes. You can buy critical illness insurance online on our website with just a few clicks.
You may use our user-friendly app to view the policy paperwork, check claim status, renew your policy, and much more to stay updated.
The CHI plan covers 32 critical illnesses, allowing policyholders to better combat and recover from serious illnesses.
What is Excluded in Critical Illness Insurance Cover
Sometimes policyholders end up disappointed with their insurance plan because of misinformation about the policy coverage limits. Hence, it is advisable for policy buyers to carefully go through the exclusions of our plan to avoid such a situation in the future.
Claims deriving from the following are excluded:
Act of self-inflicted injury attempted suicide or suicide
Any illness related directly to the consumption of alcohol/ tobacco/cigarettes, etc.
HIV or any other sexually transmitted disease
Cosmetic or plastic surgeries or related treatment
Pregnancy, miscarriage, childbirth, maternity including C- section, abortion, or complications of any of these All the hazardous activities
Damage caused by a nuclear, chemical, or biological attack or weapons
Illness or injuries caused due to any breach of law by the insured with any criminal intent
Critical Illness List: Diseases Covered Under the Policy
Our plan offers comprehensive coverage that helps policyholders to combat critical illnesses. Here is a critical illness list of 32 medical conditions that are covered under this policy:
Cancer
End-stage renal failure
Multiple sclerosis
Benign brain tumor
Parkinson's disease
Alzheimer's disease
End-stage liver disease
Motor neuron disorder
End-stage lung disease
Bacterial meningitis
Major organ transplant
Heart Valve Replacement/repair
Surgery of aorta
Cardiomyopathy
Surgery for cardiac arrhythmia
Angioplasty
Balloon Valvotomy/Valvuloplasty
Cardio Artery Surgery
Coronary Artery Bypass Graft
Pericardiectomy
Surgery to Place Ventricular Assist Devices or Total Artificial Hearts
Stroke
Paralysis
Myocardial infarction
Implantation of Pacemaker of Heart Implantable Cardioverter Defibrillator Major burns
Blindness
Disclaimer: Do refer to the prospectus as the list may change without prior communication.
How Important is Critical Illness Insurance for Family?
While we wish for a happy life free of difficulties, challenges do arise. One example of such a challenge in life is being diagnosed with a serious illness, leading to financial troubles. Any severe illness or disease can have an emotionally and financially devastating influence on an individual's life. It results in excessive medical treatment expenditures and, at the same time, leaves family members emotionally and financially broken.
In such cases, the coverage from critical illness insurance for family can be a lifesaver, as it will provide financial protection if funds are insufficient to treat the patient. Conventional health insurance coverage may be advantageous on any given day. Still, a plan tailored to critical illness needs can be a better alternative to deal with the financial consequences. Health insurance for critical illness is a specific insurance cover to pay the medical expenditures for a particular disease. It will keep your family financially secure during such trying times. It is advantageous in a variety of ways:
This coverage is a safety net that protects you in the most significant way possible. It covers 32 critical illnesses.
Because this indemnity-based plan covers numerous medical expenses you incur throughout the year, a high sum insured provides you with total security.
You have extensive financial protection for hospitalization and advanced medical procedures, such as chemotherapy and radiotherapy, essential for treatment.
With the increased occurrence of life-threatening conditions, it's more necessary than ever to have a health insurance plan covering chronic medical conditions. These plans provide financial support that can assist in covering the costs of care outside of the hospital. They can work as standalone critical illness insurance for family or in conjunction with your health insurance plan to cover all costs associated with treating these conditions.
Things to Keep in Mind While Buying Critical Illness Insurance Policy
Critical illnesses can necessitate long-term treatment in most cases. A hurried lifestyle, in addition to inherited factors, might trigger the occurrence of such medical disorders. As a result, it is prudent to be financially prepared for such unforeseeable catastrophes. By choosing the best critical illness insurance in India, you can reserve your savings and ensure quality health facilities for your family during unexpected events. When selecting such a policy, bear the following aspects in mind:
Personal Budget
If you have enough financial resources to deal with an unforeseen medical problem, you might choose the best critical illness insurance with less coverage. However, remember that healthcare expenses are rising at an unprecedented rate, so relying only on savings could cause irreversible financial harm.
Health Needs
Understand your health needs to get the best critical illness policy in India. For instance, if you are more prone to suffer from a particular disease because of your family health history or the nature of your occupation, then make sure your plan covers the specific condition adequately.
Inclusions
Each policy comes with its set of benefits. Hence, it is crucial to understand what a particular plan offers to align with your needs appropriately.
Limitations
It's just as vital to know what's not covered by your critical illness insurance plans as it is to know what is. Along with this, make sure to check the policy's waiting period to avoid any rejected claims in the future.
Claim Process
As a policyholder, it is in your best interest to know about the documentation you will need to provide and the procedures for filing a claim so you will be ready when the time comes.
Coverage Size
To determine the best coverage size, examine the expense of the specific ailment for which you are purchasing the coverage. Heart and cancer-related illnesses, for example, are on the rise these days. Although there are therapies for many ailments, they are often exceedingly expensive.
A standard health insurance policy will not be able to cover the costs of therapy. So choose a critical illness health insurance plan with a fixed benefit that covers the treatment of such urgent conditions. You can get a critical illness insurance quote online easily on our website.
Age
Having a critical illness as an older person can make matters worse. Along with the current disease, you are at a higher risk of contracting different ailments. You'll need the help of a greater coverage quantity to deal with them appropriately.
Claim Settlement Ratio
An insurance provider's claim settlement ratio indicates their ability and intent to settle the claims. Hence, consider the claim settlement ratio before making your purchase decision.
Other Benefits Offered
Aside from understanding the primary benefits of critical illness insurance, you should also consider the extras you receive when purchasing a policy from a specific insurance provider. It is a good idea to learn about the benefits available during renewal for claim-free years.
How to Buy Critical Illness Insurance Plans Online at Care?
To buy critical illness insurance online from us, you do not need to get into the cumbersome formalities. Our buying process is simple; you can follow the below steps to get your critical illness health insurance:
Visit our website and select a health policy.
Click on 'Get Quote' and provide relevant details
Enter the required information and customize your policy
Check your premium and make payment at your convenience
You can opt for the EMI option for your ease
Choose any of our secure digital payment modes to buy the policy.
You will get the new health policy documents on your registered email-id
Documents Required for Critical Illness Insurance Claim
If you need to file a claim, contact us to make a claim registration. To file a claim, you'll usually need the following documents:
A fully completed claim form
A photocopy of your ID card
A doctor's certificate verifying the diagnosis of critical illness
Summary of the discharge
The claiming team would verify the details after getting the above documents. Note that depending on the nature of the claim may be required to furnish extra documentation. We will process your claim once the documents are verified.
Tax Benefits of Critical Illness Insurance Plans
The premium for critical illness health insurance is deductible under Section 80D of the Income Tax Act of 1961. You can purchase the policy for self, spouse, or dependent children and avail of tax deductions on the premium paid for those policies.
You can claim deductions based on your age if you pay the premium for a critical illness plan or any other health insurance plan. Here are the tax benefits you can get on the premium you pay for necessary illness policy:
Those under age 60 can claim a tax deduction of up to Rs 25,000 per year for their spouse and children.
A maximum of Rs 50,000 is authorized for those over 60 to maintain a health insurance policy or medical treatment.
You can claim a deduction for the premium paid on behalf of your parents. If they are under the age of 60, the upper limit for the tax benefit is Rs 25,000. The threshold is 75,000 for parents over the age of 60. As a result, if you pay a premium for your entire family, you can save up to Rs 75,000 on your taxes.
If you are over 60 and pay your parents' premium, you are eligible for a maximum deduction of Rs. 1 lakh under Section 80D.
How Is Critical Illness Cover Different from Health Insurance?
Often, people get confused between a standard health insurance plan and a critical illness insurance policy. Not only that, but some of us believe that one of the two is sufficient in terms of health insurance.
The truth is that these two plans are vastly different, and each serves a distinct purpose. Choosing the correct health insurance is a big decision, and it's important to do your research to make sure that our medical bills don't get in the way of our life goals.
Here's a health insurance and critical illness insurance comparison to help you determine which is best for you.
| | | |
| --- | --- | --- |
| Factors | Critical Illness Insurance | Health Insurance |
| Coverage | Covers hospitalization due to life-threatening critical illnesses. | Covers standard hospitalization conditions and treatment expenses. |
| Benefits | Pre- and post- hospitalization, organ donor cover, dialysis cover, and psychiatric counselling, etc. | In-patient hospitalization, pre and post-hospitalization, day care treatments, ICU charges, and more. |
| Number of illnesses | 32 critical illnesses | Different types of chronic diseases, medical treatments, and procedures. |
| Waiting Period | 90 days initial waiting period (48 months for pre-existing diseases) | 30 days initial waiting period (48 months for pre-existing diseases). |
| Policy Period | Long-term Policy | Annual or Long-term Policy |
| Policy Renewal | The policy can be renewed after a claim year. | The policy can be renewed after a claim year. |