Why Should You Buy Cancer Cover Policy?
The increasing number of cancer cases in our country is a wake-up call. Some risk factors of cancer include unhealthy lifestyle choices and family history. Being financially prepared to deal with the unprecedented challenges in life is a smart way to safeguard your future. Sudden illnesses can be most harmful to your mental, physical and financial health. So, when you are planning to secure your future, it is vital to consider a plan that offers protection in such a situation. Medical insurance for cancer patients is not available; thus early investment is a wise idea.
Another reason to opt for cancer cover health insurance early in life is that once you are diagnosed with the disease, you may not find a pre-existing cancer health insurance policy that offers coverage for the disease at that point. Simply put, medical insurance for cancer patients is not available; thus, early investment is a wise idea.
Moreover, cancer is a critical illness that requires long-term care. Even if you do not have a family medical background of cancer, the disease may occur for other reasons. As bleak as your chances of getting this disease may be, it is in your best interest to establish a solid financial plan with the best cancer protection plan for any such contingencies. After all, you can never be too sure when it comes to matters of health.
Let's look closely at some reasons to buy cancer insurance:
Increasing Cases of Cancer

According to the World Cancer Report by International Agency for Research on Cancer (IARC), cancer is the first or second leading cause of premature death in 134 of 183 countries, and it ranks third or fourth in an additional 45 countries. These premature deaths are concentrated in the age group of 30-69. As the numbers suggest, cancer is more common than we might like to believe. Therefore, including the best cancer insurance in your financial plan can be a wise decision, especially early in life.

Medical Inflation

Medical inflation has wreaked havoc on the finances of many families in India. A disease like cancer can drain a family's entire savings in the absence of cancer medical insurance and leave them with the burden of massive debts.

Coverage for Different Stages and Types of Cancer

When you set out to find the best cancer insurance policy in India, one thing you must remember is to carefully check what does cancer insurance cover? You must remember to look for a plan that covers the common types of cancer. With a suitable cancer care plan, you can get appropriate financial support for different stages of such types of cancer.

Expensive Treatment Cost

Chemotherapy, radiotherapy, organ transplantation, and surgery are only a few examples of high-cost cancer treatments. The costs of hospitalization, day care procedures, the use of various medications, and other medical facilities all contribute to the total cost of cancer care in a significant way. A cancer cover health insurance with an adequate sum insured can help you manage treatment costs without going through immense financial stress.

Coverage for Costs Other than Hospital Bills

Cancer insurance cover not only allows you to pay the hospital bills for the treatment, but it can also help with other costs associated with cancer care. OPD expenses and alternative treatments are other costs covered in a cancer cover plan. Hence, having a cancer insurance plan on your side offers much-needed financial security.

Relieve Financial Struggles

For most people in India, managing Rs. 10 to 25 lakh all at once to cover cancer-related treatment expenses is a difficult challenge. No matter how much one may give up in terms of everyday family needs, lifestyle, and other factors, they cannot give up on their child's education, unpaid loans, and so on. When you know you have a lot to provide for while taking care of cancer treatment-related costs, getting the right cancer insurance plan beforehand is a great idea. What's more, the cancer care plan protects you from having to sell your house, car, property, or other valuables.

Family History of Cancer

The rising number of cancer diagnoses and subsequent long-term treatment costs have resulted in a massive rise in the cost of cancer care in today's world. Having a family history of cancer increases the likelihood of being diagnosed with cancer later in life.
If you have a family history of this disease, buying a cancer insurance policy might be a wise move. However, you should be mindful that any pre-existing cancer health insurance for already diagnosed conditions is not protected by a cancer insurance policy when buying one.
Key Features of Cancer Care Plan
The Sum Insured for the cancer cover policy ranges from Rs 10 lakh to Rs 2 crore.
You can get a No Claim Bonus for every claim-free year under the cancer protection plan.
Lifelong renewability applies to a cancer insurance plan, so you get continued coverage for a lifetime through successive policy renewals.
You have the option of equated monthly/quarterly instalments available with multi-year cancer cover plans of 2 or 3 years.
International second opinion is available while availing treatment for cancer.
Optional benefit of an additional sum insured for accidental hospitalization, international second opinion, unlimited automatic recharge, air ambulance cover, etc., is available with cancer cover health insurance.
Who is Eligible for Cancer Health Insurance Policies?
Every year, over ten lakh people are diagnosed with cancer in India and six to seven lakh people die as a result. A study predicts that the number of cancer cases would double in the next two decades. Do you have cancer treatment insurance coverage? Cancer cover insurance will provide you with peace of mind if you face this illness. Find out who is eligible for cancer policy in India :
Most cancer-specific insurance policies require the proposer to be at least 18 years old to be eligible.
While buying mediclaim for cancer patients you should know that there is a 90-day waiting period by insurance companies. You can't submit a claim until the waiting period is over.
The entry age for the cancer cover policy is 5 years to 50 years on an individual basis without any specific exit age.
How Does Health Insurance Works for Cancer Patients?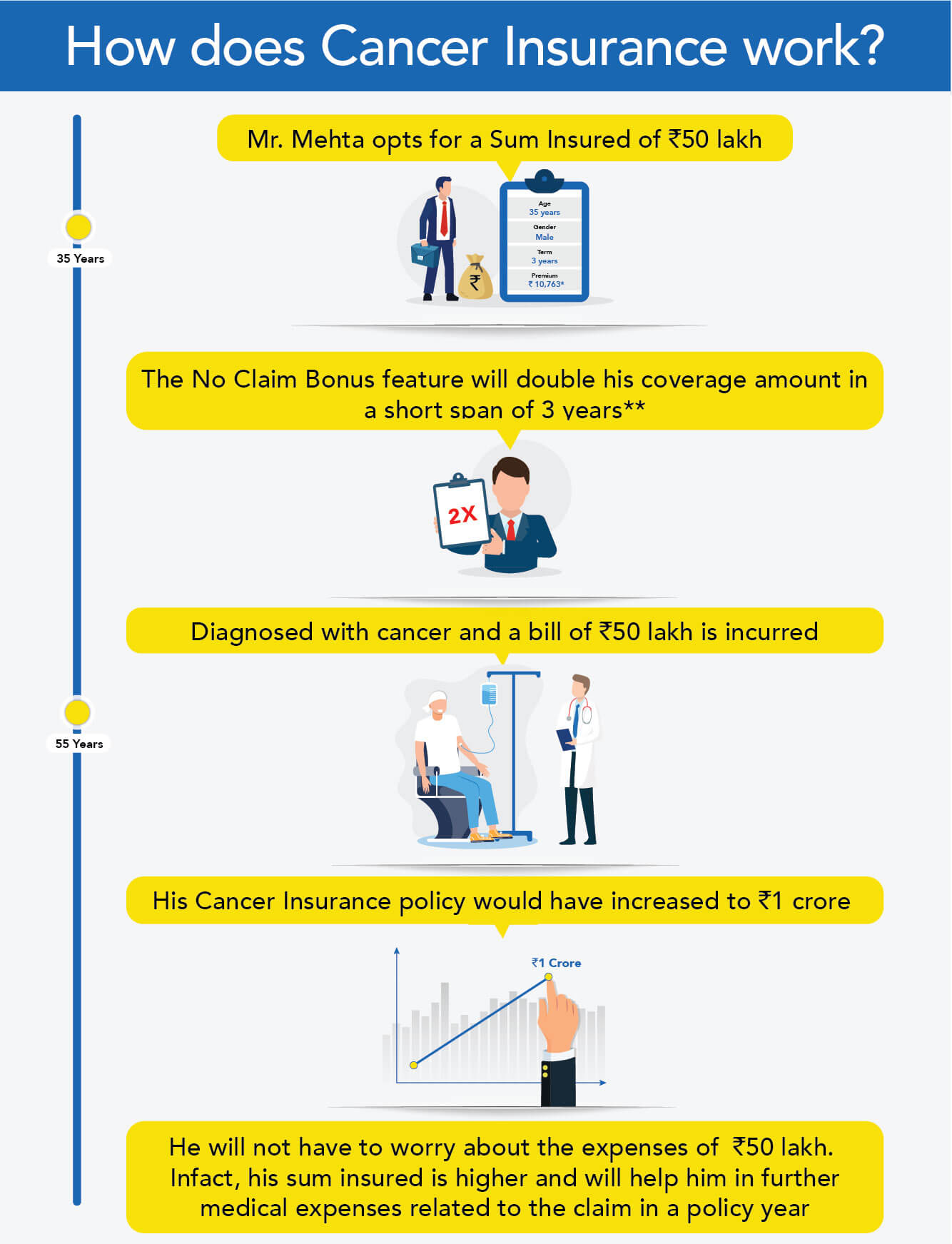 An insured individual must pay the premium to receive the various benefits offered under a cancer insurance policy. Under the cancer cover plan, you are given two options to get coverage for the medical bills: cashless or reimbursement. As the name suggests, the cashless form of cancer insurance plans in India would allow you to avail of medical treatment without paying the bills upfront. We will settle the bills directly with the hospital.
With the reimbursement option of the cancer insurance cover, you can pay the bills out of your pocket and get them reimbursed later by us when you produce the bills and receipts for the medical expenses incurred.
Policyholders must file a claim within a certain timeline to obtain the claim for the cancer cover health insurance. It is important to be familiar with the policy's terminology, such as the waiting period, co-payment clause, and exclusions that would be considered.
Let's take a look at how cancer insurance cover works. Here's a profile of cancer insured individual:
Mr. Mehta, a 35-year-old male, opts for a sum insured of Rs. 50 lakhs with a policy term of 3 years. He has no pre-existing condition at the time of purchasing the cancer care insurance. According to his profile, his cancer insurance quotes include an annual premium of Rs. 10,763 (includes 18% GST) or Rs 367 Per Month*
If he is diagnosed with cancer later in life, say at 55, it can be worrying for him to rely on the sum insured of a cancer insurance policy purchased around two decades ago. However, if he has kept renewing his policy, the No-Claim Bonus would have allowed him to get a higher sum insured at the time of renewal without spending a fortune.
When he receives treatment for cancer, a medical bill of Rs 70 lakh is incurred. As a result of the No-Claim Bonus feature, the sum insured for Mr. Mehta's cancer insurance policy will have increased to Rs 1 crore in this case.
Since this cancer medical insurance is an indemnity-based policy, it will compensate for the actual medical expenses arising out of the insured person's treatment for the disease. The expenses up to Rs 70 lakh will be covered in Mr. Mehta's situation, according to the terms and conditions of the cancer care policy. The remainder of the amount insured will be available to the policyholder for additional care and potential medical expenses.
Furthermore, if he has availed of the treatment at a network hospital, he can choose to go for the cashless treatment as per the terms of the cancer medical insurance. It will enable him to get treated without paying the bills out of his savings. Once the treatment is over, we will settle the medical bills with the hospital. If he goes to a non-network hospital, he can file a reimbursement claim within the time limit.
*Sum Insured – Rs.50 Lakhs, Age – 35 years, Monthly Premium Payment Mode including Optional covers included - Room rent modification/ Air ambulance cover/ ISO. Excl GST
What is Covered in Cancer Insurance Policy?
When it comes to a cancer care policy, many people have misconceptions. It is important to know that your primary health insurance policy would cover cancer treatments. However, health insurance with cancer cover becomes unaffordable since choosing a higher sum insured comes at a greater cost. On the other hand, a cancer insurance plan is a standalone health policy that helps you prepare for cancer-related medical costs. Generally, cancer insurance cover provides a higher coverage amount at an affordable premium as compared to a standard health insurance plan.
It is safe to say that cancer insurance in India is similar to critical illness insurance. When the insured is diagnosed with cancer, the individual can avail of the coverage under the cancer policy, thus receiving financial support in the time of need. Depending on your insurance needs, you can choose the best cancer protection plan by customizing it to your needs.
So, what does cancer insurance cover? Let's look at the coverage you can get with one of the best cancer insurance plans available today:
Comprehensive Cancer Cover at All Stages

When diagnosed with cancer, the insured individual receives coverage for the medical expenses up to the sum insured opted under the cancer insurance policy. One can get coverage for hospitalization expenses and in-patient care, daycare treatment, ambulance cover, organ donor cover, and more if they carefully select the best cancer Mediclaim policy.

Chemotherapy & Radiotherapy Cover

One of the most expensive aspects of cancer treatment can be chemotherapy. It is also the most common medical procedure to manage symptoms of cancer in a patient. Therefore, when looking for the best cancer protection plan, you must carefully understand the coverage terms for treatments like chemotherapy and radiotherapy. The cancer medical insurance offered by Care Health provides coverage for such medical procedures, the amount for which will depend on the sum insured of the individual's plan.

Lifelong Renewability

Most of the cancer insurance plans in India cannot be renewed after a claim has been made. Cancer Mediclaim by Care Health Insurance provides a lifelong renewability option. Thus, this cancer protection plan keeps one financially secure for the lifetime and serves as a vital safety net in scenarios where cancer relapses.

Pre & Post Hospitalization Medical Expenses

Medical treatment may begin even before hospitalization starts and continue after the patient is discharged from the hospital. The cancer medical insurance also includes coverage for medical expenses incurred during pre and post-hospitalization for 30 and 60 days, respectively.

No Limit on ICU Charges

When a patient is admitted to the ICU for a few days, the charges incurred for hospitalization can be hefty. With cancer cover health insurance, you can remain stress-free about bills as there is no limit on the cover for ICU charges.

Annual Health Check-up

A timely medical check-up is vital for maintaining good health. With a cancer insurance policy, the insured person is eligible to avail of an annual health check-up once in a policy year. We provide this benefit on a cashless basis from the second policy year on continuous coverage under the cancer cover plan.

Second Opinion

Any illness demands the right diagnosis and medical attention. If you are diagnosed with/ undergoing/ have undergone any of the covered conditions and wish to get a second opinion in India, our cancer care policy can cover it. We will arrange one for you once for each illness/surgery in a policy year from an expert in our panel.
Benefits of Cancer Insurance Plans
When a family member who earns a living is diagnosed with cancer, it can affect the financial health of the family. With a cancer cover plan, one can get the required coverage for the incurred treatment expenses, thus reducing dependence on one's savings.
A cancer insurance plan is an indemnity-based policy that covers all phases of cancer care. The advantages of Care Cancer Mediclaim are many, and policyholders can use them to relieve the financial burden of dealing with a critical illness like cancer. The best cancer Mediclaim policy can be described as a comprehensive health insurance plan that caters to various medical needs that arise during the treatment of cancer.
Let's take a look at some of the benefits of a cancer insurance policy: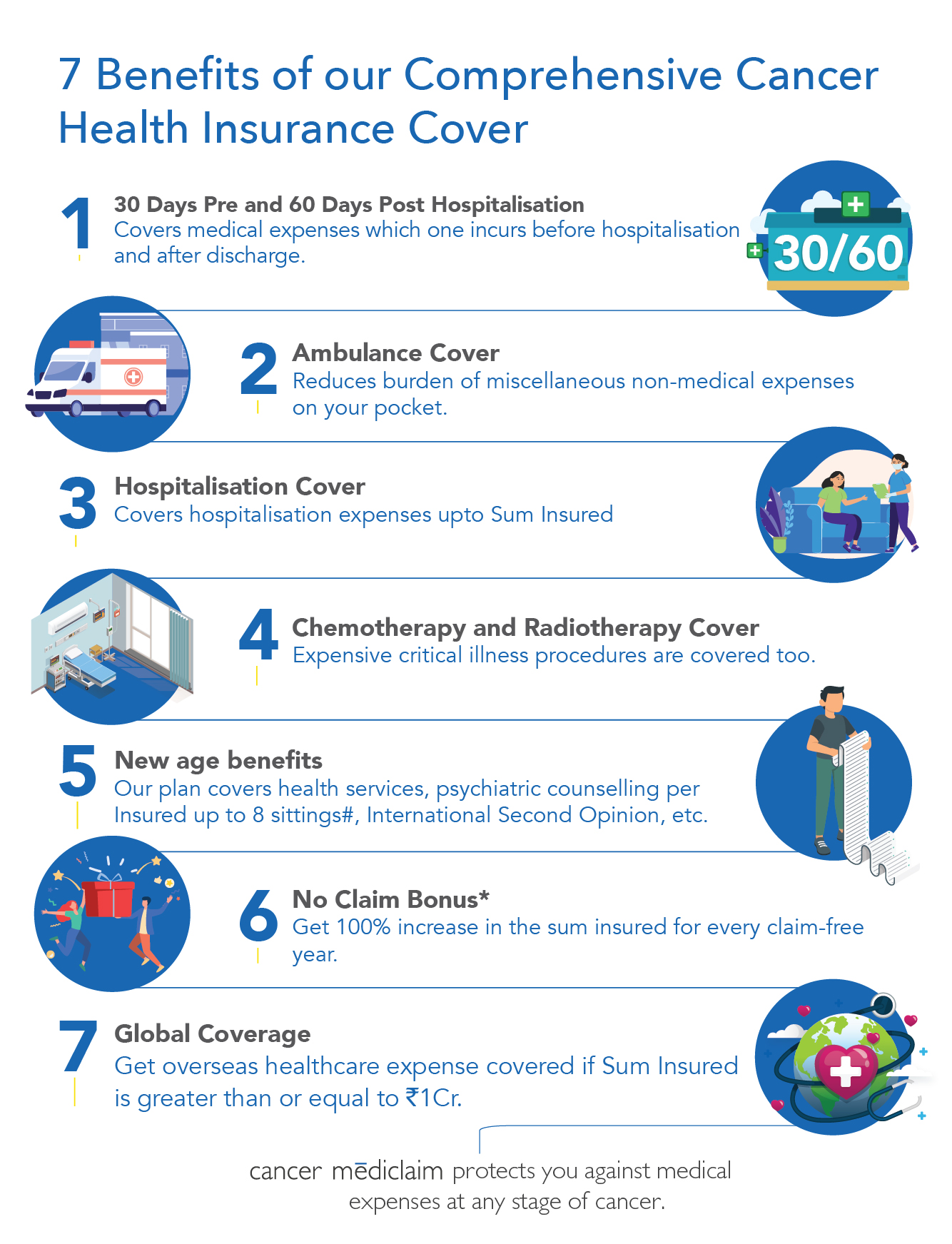 Specific Coverage for the Disease

A cancer cover policy is a tailored package that can be far less expensive than a standard health insurance policy. It specifically addresses the financial requirements that you may have while battling cancer. Not only that, but the premium for the cancer cover plan can be charged in instalments, making it more convenient for you.

Protection for Your Family

This cancer mediclaim policy allows coverage for up to six individuals, meaning you can cover your whole family under one policy. It can be much easier on your pocket to opt for a single cancer care policy that covers your family. You can also choose the cancer cover plan as an additional layer of protection for your family if you have existing standalone health insurance plans.

Cover for Different Types of Cancer

Under the cancer protection plan, you can get coverage for different types of cancer. Make sure to go through the terms and conditions of the cancer insurance plan carefully before buying it.

Increase in Sum Insured

If you do not make any claims during the policy period of the cancer cover plan, you are entitled to receive a No-Claim Bonus when renewing the plan. In general, when you renew a policy after a period of no claims, your sum insured will increase by a specified percentage every year. If you buy the best cancer care policy early and continue renewing it for several years, you will end up with a much more significant sum insured than the initial amount.

Affordable Plan

One of the most significant advantages of a cancer care plan is that it provides maximum coverage at an affordable price. Moreover, one has the option to avail of premium discounts by choosing a multi-year cancer care policy.

Value-Added Features

After the first policy anniversary, you can go for yearly health check-ups under the cancer insurance plan. In addition to the benefits of cancer insurance that we have mentioned, the cancer policy also gives you access to optional benefits and health resources, including doctor-on-call and quick recovery counselling.
>>Click to Know About Mediclaim Policy and Its Benefits
How to Find Affordable Cancer Policy in India?
The cost of a cancer insurance plan is a point of concern for policy buyers. It is important to know that the premium you have to pay to enjoy the benefits of the cancer cover plan depends on several factors.
If you are exploring the best cancer insurance plans to get an affordable and valuable set of benefits, here is what you should do:
Assess Your Needs

First and foremost, you must assess your medical needs, taking into account risk factors such as family background, to make an informed decision about the cancer cover health insurance. Ensure that you estimate the medical expenses before purchasing the best cancer insurance policy. Since your financial profile is unique, you must understand it well before you buy cancer insurance cover.

Review the Policy Coverage

Choose a cancer mediclaim policy that will provide relevant benefits and protection against this serious illness. It is possible to find a cancer insurance plan that covers you regardless of the stage or type of cancer. For example, Care Health Insurance's cancer mediclaim covers all stages of cancer. It covers hospitalization costs, pre-and post-hospitalization medical costs, a variety of daycare treatments, as well as specialised treatments such as chemotherapy and radiotherapy.

Opt for a High Sum Insured

Treatments for cancer may cost lakhs and lakhs due to the advanced medical care needed. Make sure the cancer insurance policy you want has enough coverage to cover medical inflation in the future. Choosing a large sum insured with cancer medical insurance can be a smart move, allowing you to receive medical attention and therapy without financial constraints.

Use a Health Insurance Premium Calculator

You do not need to pay high premium costs to get cancer cover when you can protect your health with a low-cost cancer care insurance plan. You can use our health insurance premium calculator to estimate the cost of a cancer policy tailored to your specific needs.

Check the Waiting Period

A waiting period is the duration of time that must pass before your policy coverage starts. A cancer insurance policy requires a 90-day initial waiting period. It means that you can only claim the benefits of the cancer protection plan in case cancer is diagnosed after the initial wait period.

Consider the Exclusions

Exclusions are a part of any health insurance plan and apply to illnesses, disorders, surgical procedures, or medical costs that are not covered by the policy and for which you cannot make a claim. Reviewing the exclusions of the cancer insurance policy will help you avoid delays and uncertainty, resulting in a smooth claims process.
Check your premium now with our Health Insurance Premium Calculator
We live in a time where everything is just a few clicks away, and cancer medical insurance is no different. The digital presence of insurance providers is particularly helpful in your search for the best cancer insurance in India. It allows you to compare different cancer cover plans on several parameters such as price, benefits, flexibility, and more to make a well-informed decision. Once you have chosen the best cancer insurance for your family, you can buy cancer insurance online by following these easy steps:
First, visit the official website of Care Health Insurance and choose a cancer insurance plan.
Click on 'Get Quote' after entering your phone number and e-mail address.
Provide the contact details, name, and pin code for the area where you reside.
Fill in information such as the number of insured people, gender, and age. Check the box for pre-existing conditions, if there are any.
Customize your cancer insurance policy by selecting a suitable sum insured, policy period, premium payment frequency, and other options.
Check the premium for the cancer insurance cover and then press the 'Buy Now' button. Confirm the information of the proposer on the 'quick pay' tab.
Pay the premium using any safe digital payment method, like net banking, debit or credit cards.
On your registered e-mail address, you will receive the health policy documents for the cancer cover health insurance, including the e-health card.
Exclusions in Cancer Health Insurance
A cancer insurance plan offers adequate coverage, regardless of the stage of the disease. However, before you buy a cancer insurance plan, it is essential to read the health insurance documents thoroughly.
The reason is that most insurance plans have some inclusions and exclusions that determine which costs the insurer may cover and which will remain uncovered. It is important to comprehend the inclusions and exclusions of cancer health insurance entirely.
Here are some of the exclusions of a cancer insurance plan that you should know:
In a cancer insurance plan, there is a 90-days initial waiting period. If the insured receives a diagnosis of illness or undergoes some medical operation during this period, the insurer will not cover the expenses
The cancer cover plan does not cover suicide attempt or suicide by self-inflicted injury
Any disease caused by consumption of alcohol, tobacco, or cigarettes
Cosmetic or plastic surgery, as well as similar treatments
Pregnancy, miscarriage, childbirth, maternity care, including C-sections, abortion, or complications of any of the conditions
All hazardous activities
A nuclear, chemical, or biological attack, as well as weapons that may cause significant damage
Illness or injury incurred by the insured's criminal intent to break the law
Finding out after a diagnosis that some medical conditions/expenses are not covered under the cancer insurance policy can lead to pressure on the family and their financial resources.
Some of the best cancer insurance plans in India provide a 15-day Free Look Cancellation period, allowing prospective policyholders to review the policy's terms and conditions before committing to it. It is the perfect time for a policyholder to inquire about the inclusions and exclusions of the cancer insurance policy. If you find them unsatisfactory, you can return the policy documents, expressing dissatisfaction which will allow for a refund of the premium charged, as per the terms and conditions of the cancer care policy.
Quick Tip: Worried about maternity expenses? Our maternity insurance plan will take care of your finances and let you enjoy your bundle of happiness.
How Important is Insurance for Cancer Patients?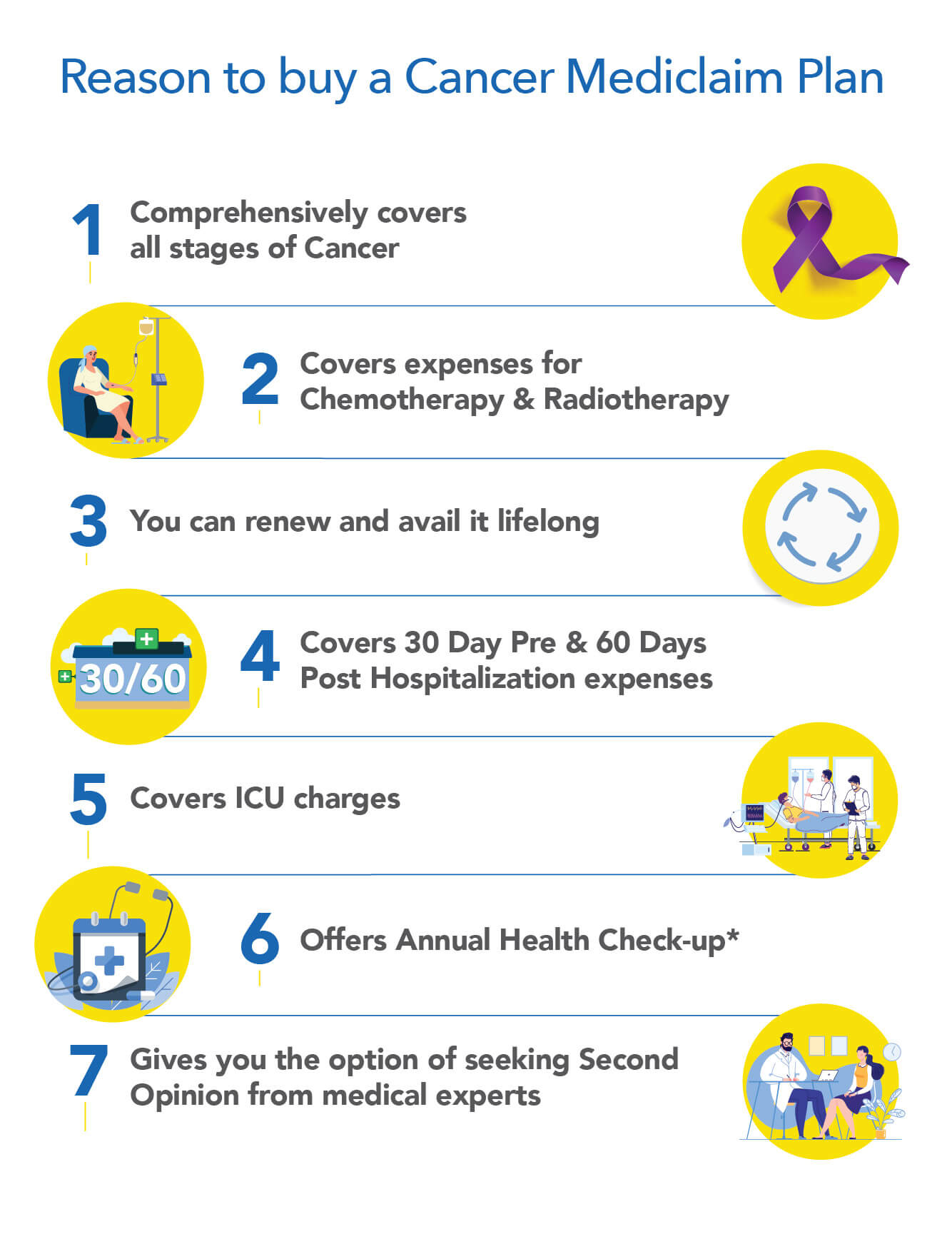 The rising number of cancer cases in our country is alarming. People are vulnerable to this harmful disease due to unhealthy lifestyle habits, family history, and other factors. The significance of a cancer insurance plan cannot be overstated. Given the possibility of financial challenges arising from the disease, it is good to have a cancer insurance plan in place by opting for it early and get covered for the unnecessary rise in medical costs.
The following are some of the reasons why a cancer policy is required:
Cancer is a terrifying illness that necessitates specialised medical attention. This indemnity cancer medical insurance would cover various cancer treatment-related costs, ensuring financial security for your family.
Anyone who leads a hectic lifestyle needs cancer insurance. Investing in this strategy would also be a step in the right direction if the illness runs in the family.
It functions as a supplement to the current health insurance policy. A standard health insurance policy is insufficient to cover the costs of care for this disease.
Cancer therapies have progressed, but it can be immensely stressful to manage them without the best cancer protection plan due to medical inflation.
The best cancer insurance options cover all stages of cancer. You have the advantage of being able to weigh your choices and make an informed decision.
As a result, this cancer patient health policy provides you with much-needed financial security and peace of mind, allowing you to focus solely on your health rather than your finances.
How to Claim Cancer Health Insurance?
Due to the gradual expansion of insurance businesses, life-threatening sickness insurance plans have become a speciality product. However, the lengthy claim settlement process scares away many potential customers. Settlements for health insurance claims do not have to be a frustrating and stressful affair.
When an individual is diagnosed with cancer, a cancer health insurance policy can relieve the financial burden considerably. It provides a safety net for the daily medical expenses, for which a regular health policy might not be enough to cover the high care costs.
The policyholder may file a reimbursement claim by filling out the claim form and attaching the appropriate documentation, as specified in the policy terms and conditions of the cancer cover plan. You can also use the cashless option, which is only available at network hospitals. In the event of emergency hospitalization, the policyholder must contact us within 24 hours and 48 hours prior to admission in the case of a scheduled hospitalization to avail of the benefits of cancer cover health insurance.
Here are a few guidelines for smooth and quick claim settlement of health insurance for cancer patients in India:
Making Cashless Mediclaims:
Find a network hospital to receive cashless treatment.
In the case of an emergency, notify the insurer within 24 hours and 48 hours before in case of planned hospitalisation.
Bring your cashless card, member ID, or policy number to the network hospital. Fill out the pre-authorization form and show the policy number, member ID, or health insurance card to the hospital's insurance desk.
The hospital sends your completed pre-authorization form to your insurer. The claim settlement team at the insurance provider evaluates and reviews the received claim details before informing the hospital and insured of the final approval.
If the insurer approves the bills, the hospital receives the payment directly, but if the insurer rejects the invoices, the policyholder is responsible for paying the hospital bill.
Making Reimbursement Claims:
In the case of an emergency, notify the insurer within 24 hours and 48 hours before in case of planned hospitalisation. Later, it depends on which insurer you go to and how long it will take to reimburse the claim.
Request a reimbursement form from the insurance company or access it online. Fill the claim form, attach all previously specified documents and send them to the insurer's office.
The letter of approval is sent to the policyholder by the insurer's claim settlement team after the papers have been examined. If the claim is approved, the money will be reimbursed to you in 30 days. The reimbursement process differs from one insurance company to another depending on their policies.
If the claim is denied, the insured individual will be contacted by the insurer or informed as to why the claim was denied.
How Does Cancer Insurance Differ from Health Insurance?
Nobody can deny that being financially prepared makes it easier to cope with unexpected issues such as illnesses or accidents. Given the times we live in, this is especially true. New health risks can obstruct our path to achieve important life goals. As a result, purchasing health insurance for critical illnesses such as cancer is important.
If there is a chance of cancer due to environmental causes or family medical history, a cancer treatment insurance policy should be considered. It is necessary since an existing health plan will be unable to cover the different costs associated with cancer care.
Cancer Insurance
Health Insurance
Coverage
A comprehensive cancer care policy covers the incurred medical expenses during all stages of cancer.
Covers the general medical and surgical costs of the insured person. Hospital costs are covered and there may be sub-limits for room rent, etc.
Who Should Buy?
Individuals who have higher risks should consider the cancer care policy.
In addition to a basic health insurance policy, you can buy a cancer insurance policy to supplement the protection.
A standard health policy should be purchased by everyone. With rising healthcare prices, health insurance should take priority in your financial plan. However, a regular health plan could be insufficient in the event of a serious illness or cancer. As a result, critical illness and cancer coverage are needed.
Why Should You Buy?
It covers the cancer care expenses incurred that can be otherwise financially challenging.
You can use the support from the cancer insurance plan to pay for medical costs.

It is a simple indemnity-based plan that reimburses medical costs or provides cashless care. It is ideal for covering rising hospitalization costs, care, diagnosis, medical assistance, and other medical expenses, thus enabling one to bear the impact of medical inflation.
It is important to purchase a comprehensive cancer insurance plan, such as the one provided by Care Health Insurance. A cancer cover health insurance policy outperforms most health insurance plans because the cost is low and coverage is available for all stages of cancer.
Things to Keep in Mind When Buying Cancer Insurance
Purchasing cancer insurance is a wise decision that will help you secure your future. You should be aware, however, that it is a crucial financial decision that requires planning and cautious thinking. There are several factors to weigh before deciding on the best cancer Mediclaim policy for you, such as the right premium amount, coverage scope, family medical history, etc.
We have compiled a list of some of the most critical considerations to make when choosing the best cancer Insurance plan in India for your family:
Choose a Comprehensive Cancer Care Package

The cost of medical care is at an all-time high. The cost of medicines and other healthcare-related expenses have skyrocketed as a result of market inflation. The prices are much higher when it comes to a terminal illness like cancer. The medications used to treat cancer are very costly and out of reach for many people. Even if your earnings are adequate to cover the costs of care, it will undoubtedly deplete your savings. In such a scenario, choosing a plan with adequate cancer coverage is recommended.

Calculate Insurance Cost of Your Cancer Care Plan

Once you have decided to go for a dedicated insurance plan for Cancer, it is important to figure out how much you will have to pay in the monthly premium. A premium calculator can help you get cancer insurance quotes without any hassle. It is available on our website www.careinsurance.com to ensure accessibility to the policy buyers. Knowing the cost of cancer insurance, you can plan your future investments and make financial decisions accordingly. It will make your investment portfolio more well-rounded and ensure that you have peace of mind.

Read the Policy Document Carefully

As important as it is to know the benefits and coverage of your cancer insurance plan, it also helps to know the expenses that your policy does not cover. Medical conditions caused by other sexually transmitted diseases, excessive alcohol, substance abuse, or medications not administered by a licenced medical professional are not protected under a cancer insurance plan. Neither are those that arise as a result of nuclear, biological, or chemical contamination. Ensure you are aware of the exclusions and inclusions of the policy before you buy cancer insurance to avoid future disappointments. You do not want to be surprised by a clause that complicates your cancer insurance cover claim settlement during a medical emergency.

Check for Flexibility

Your cancer care policy should offer you options when it comes to determining the amount of cover, premium payment, and premium payment frequency. Some policies allow the policyholder to pay the premium in one lump sum or through monthly/quarterly instalments with multi-year policies of 2 or 3 years.

Check the Waiting Period

When it comes to cancer insurance plans, the waiting period is the most crucial factor. After a certain number of days have passed after the purchase date, the cancer care policy becomes active. Be sure to check your plan's waiting period to prevent any confusion once you buy the policy.